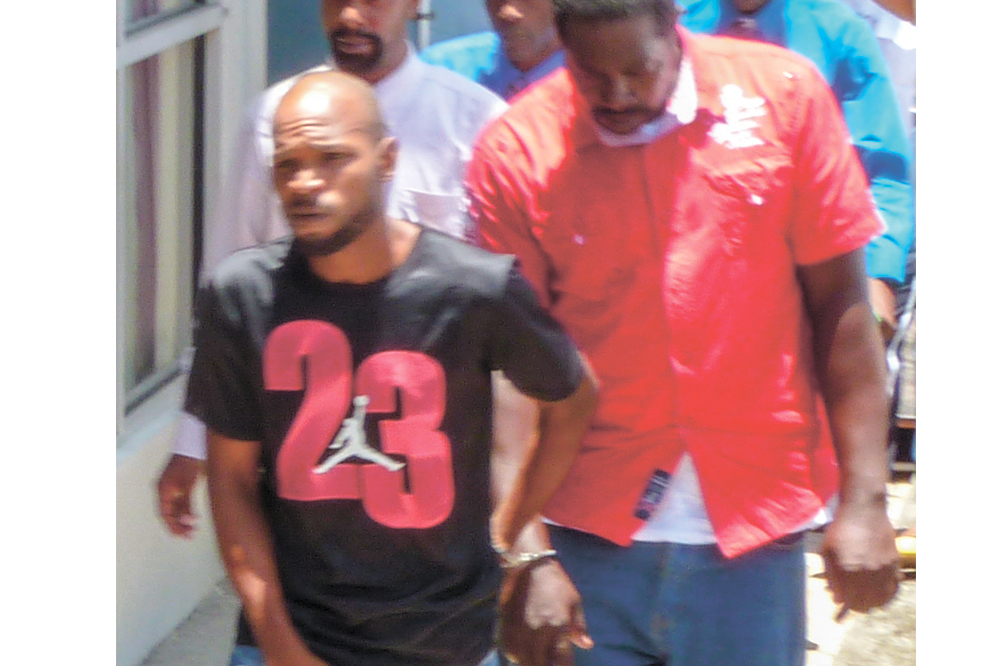 Duo jailed for stealing nine pigs
DESPITE HAVING travelled far and wide after being snatched from their pen, nine live pigs have been recovered by the police and returned to their home.
Nine pigs worth $4,500 were apparently snatched between April 21 and 22 from the pen in which they were being kept at Mount Wynne. The nine pigs had been sharing this pen with 17 other pigs, and were watched over by a man who discovered the disappearance after he made checks when he came to take care of the pigs on the morning of April 22.
Investigations tracing the nine missing pigs ensued, leading law enforcement to Raymond Henry, a tyre fitter of Questelles. More information led the investigations to unearth the involvement of another, namely Kenny Gordon, a van conductor of Campden Park.
Henry and Gordon led police to Fairbaine Pasture where eight pigs were recovered. The final pig was then recovered in Questelles, and therefore 17 became 26 once more.
The animals belong to Beverly Reddock of Kingstown, who faced the two men in court as the complainant, while they stood in
the dock. Henry and Gordon pointed the finger of blame at each other when they appeared before Senior Magistrate Rickie Burnett.
Henry indicated that at 12 in the night Gordon had asked him to go for a work, and he went with him.
"If a man is going to take you to a place midnight to remove nine pigs…what is going through your head?" Burnett asked him.
Henry stated that he had asked the man why they were going so late.
Gordon removed himself from the main scene of the crime entirely. He said while sitting with his friend, he was offered a ride home by Henry who told him "We going on a mission." However, Gordon was not for the mission, having a pregnant fiancée, and he said "boy me don't want to get in nothing."
However, when the other defendant came with a jeep full of pigs at 4 a.m., and although he doesn't really "go pon a scene," Gordon ended up going with him. He helped take out the pigs from the jeep when they reached their destination.
"I don't know who and him been on a scene, but he come by my house with a jeep full of pig," Gordon insisted.
Gordon was charged with between April 21 and 22, knowing or believing nine pigs to be stolen goods did dishonestly undertake in their retention and disposal for his own benefit.
Henry was charged with the theft of the nine pigs, the property of Reddock, between 21 and 22 of April.
Henry was considerably disgruntled at this course of events, grunting that Gordon was in fact there with him that night/morning.
This juggling of blame between the two had caused some amusement to those seated in the court, snorts of laughter breaking out from time to time.
"Both of you are still dishonest," Burnett pointed out to Henry, "there's nothing different between you."
Reading his record Burnett reminded Henry about the goat he had stolen. "I don't know nothing about the goat," Henry insisted.
Gordon, slightly luckier than his co-accused, had only dabbled in marijuana, with one previous conviction.
Gordon apologized to the complainant, and said he was sorry for the distress caused from the situation. He again spoke about his pregnant fiancée, and stated that he prayed that the complainant would forgive him.
Henry grumbled some more before saying, "I ain't really got nothing to say."
"Both of you are in it… and both of you are going to the same place," the Senior Magistrate told them.
In response to a last ditch effort to secure a fine, Burnett stated, "the answer is no."
Henry, for the theft will spend nine months in the pen, with Gordon joining him for six months.(KR)
POLICE OFFICER escorting Raymond Henry (left) and Kenny Gordon from Kingstown Magistrate Court