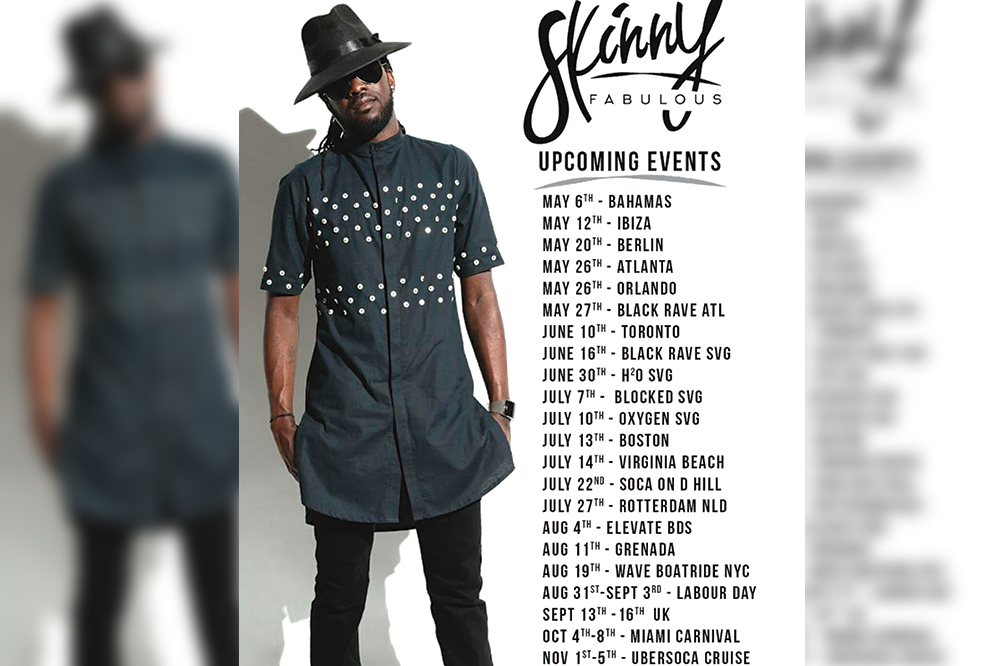 News, Searchlight
April 24, 2018
Skinny Fabulous gears up for hectic tour schedule
BETWEEN MAY 5 and November 5 this year, Gamal "Skinny Fabulous" Doyle will take part in over 22 events in 10 different countries including Germany, The Netherlands, The United States and Canada.
Despite this hectic schedule, the six-time national Soca Monarch and the winner of one national Ragga Soca Monarch title will be deeply involved in Vincy Mas 2018 which runs from June 29 to July 10.
The "This Island is Mine" and "Mash up International" singer told SEARCHLIGHT, "I am booked most of June and July but for Vincy Mas, I am going to be on the ground for sure. I am not taking any overseas bookings for our Carnival weekend nor the weekend before Vincy Mas."
Skinny's hectic schedule starts on May 6 with a gig in The Bahamas after which he moves to Ibiza on May 12. On May 20, he performs in Berlin, Germany then it is on to Atlanta on May 26. May 27 is the date for Black Rave Atlanta then on June 10, he has a performance in Toronto. Black Rave SVG is on June 16 and on June 30 is Hot 97.1 FM's H20 Soca at Arnos Vale. July 10 is "Oxygen SVG" and on July 13, one day after Vincy Mas ends, he has a show in Boston and he moves to Virginia Beach on July 14. Soca on the Hill in Barbados is expecting him on July 22 then it's on to Rotterdam on July 27, after which he returns to Barbados for "Elevate" on August 4.
The hectic schedule continues in Grenada on Aug 11 then moves to New York City for "Waves Boat Ride" on August 19. New York's Labour Day celebrations (August 31 to September 3) will see him in action then he is off to the United Kingdom (UK) from September 13 to 16. Miami carnival will get him from October 4 to October 8 while he will take part in the "Ubersoca Cruise" from November 1 to November 5. This cruise leaves Miami and ends in Haiti.
Doyle said he copes with his hectic schedule by being mentally prepared."I think it is more of a mental prep, I think I am already accustomed to the physical stress of all that travel."
He added, "what happens sometimes is that the shows are so back to back that you end up leaving the show to the airport, and by the time you get to the next country, it's time to go on stage again so you just get to put down your clothes at the hotel and back on another stage, and after that it's back to the airport again."
The popular entertainer said the physical stress is dealt with by being mentally prepped, "and you must apply some sort of excitement to it. It's not easy, but it's doable and it also helps when you have a good 'vibesy' road team."