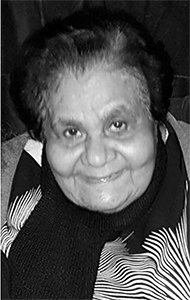 In Memoriam/Acknowledgement
May 10, 2019
In Memoriam – Marjorie Anastasia Jardine
In Loving Memory of
Marjorie Anastasia Jardine
of Mt Pleasant Marriaqua and England
Born: 28th September 1930 – Died: 14th May 2018
One year on we mourn your passing.
"Yea, though I walk through the valley of the shadow of death,
I shall fear no evil: for though art with me:
Thy rod and thy staff they comfort me".
Fondly remembered by children Peter, Paula, Jerry, Randal, Steven and Patrick. 20 grand and 6 great grandchildren. Friends and relatives.