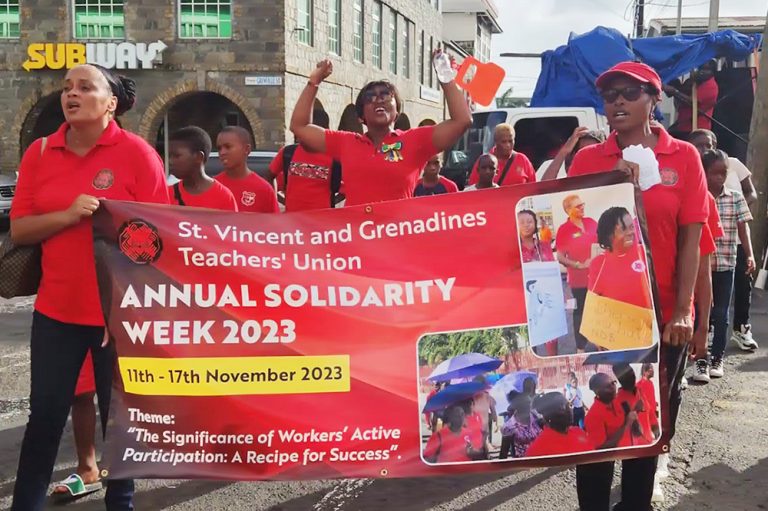 Front Page
November 21, 2023
Union head lashes teachers for poor support at march
The St Vincent and the Grenadines Teachers Union (SVGTU) closed out its annual Solidarity Week of activites with a march and rally in Kingstown on Friday.
President of the SVGTU Oswald Robinson raised an issue with the small number of supporters who joined the march. Speaking to attendees at the rally at Bishops College Kingstown, Robinson said the Union supports teachers in dire times, but the support towards the Union appears to be lacking.
"When the volcano erupted? Who responded? When government retired you? Who stood up for you? The Teachers Union."
Fewer than 100 people participated in Friday's march and Robinson said the response is disappointing, considering that schools were given half-day leave to accommodate the activity.
"Some people thinking hard to take one day off to stand with their union. Today we got a half [day]. How many teachers we have in the country, about 2,000. Where are they? The unions asked the authorities for half-day and the half-day was given and where are the teachers? We can do better than this. Too many excuses when the union calls but when we have our problem we call the union."
Robinson said considering that there are pressing issues on the table such as pension reform, teaching appointments, the continuous advocating for a collective agreement and also the poor condition of some teaching plants, teachers need to be "more active" in support of the Union.
"This is not the time to relax… it is time that we affirm our commitment to the organization that would stand up for you."
Robinson referenced the 1975 Teachers Strike, where many were injured and one person died, noting that teachers put themselves in harm's way to make their voices heard.
"Whatever function you have to perform in any organization, you have to be active. We can't be spectators and if it is not the time now, now is the time to be more active so we will be part of that essential ingredient to reap the success that we so desire. "
At the rally, messages of solidarity were shared from Teachers Unions in Jamaica, Bermuda, Antigua and Barbuda as well as the Caribbean Union of Teachers.