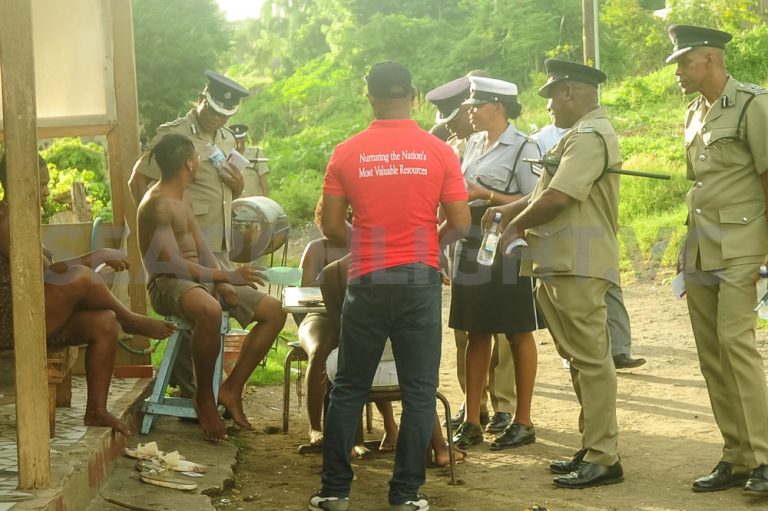 Front Page
November 17, 2023
Break-ins, gun violence troubling Diamond residents
Burglaries and gun violence are two areas that Diamond residents hope will be given top priority with the promise of increased police presence in the community.
The Royal St Vincent and the Grenadines Police Force (RSVGPF) carried out a community initiative on Wednesday, November 15, which included a walk through and concert by the Police Band.
Residents told SEARCHLIGHT that they hoped the increase in police patrols would put an end to the criminal element plaguing the area and causing undue stress to householders, especially older persons.
Those who spoke did so under anonymity for fear that they could be the next target of crime.
One male resident in his 40's said that burglaries occur often in the community with the most recent happening just last week. He explained that the home of an elderly man was broken into and in the melee, the homeowner had been physically assaulted.
He described the community as a "bad area", pointing to one particular area which is commonly known as "Down in de bottom". He said sometimes residents do not make a fuss and choose not to report the matter to the police. He also said it was a usual occurrence to hear gunshots being fired in the area.
He said the community will be waiting patiently to see if the commitments made by police become a reality.
Last month, a 45-year-old male resident was reportedly robbed while walking home from one of the main supermarkets in the area. The man was accosted by a masked man and shot, with the robber making off with around EC$80.
Another male resident who owns a business establishment in Diamond told SEARCHLIGHT he has suffered multiple break-ins over the last four years.
He said to secure the business he has had to dish out close to $2,000 on an alarm system and other security mechanisms.
He said in the past, there have been police patrolling the area in vehicles up to "two maybe three times" per week. He said while the presence of the police was welcomed, and he commended officers for coming into the community, he questioned if the patrols were effective in decreasing the number of crimes occurring in the community.
A female resident in her 50's said while police are not foreign to the area, she believes there needs to be constant round-the-clock patrols to keep criminals at bay.
"They [police] have to come out more cause them [criminals] out all the time."
Police have said there are plans to set up a neighbourhood watch and Police Youth Club in Diamond.
Wednesday's walkabout and Community Concert was organised by the RSVGPF in collaboration with the Police Band, the National Commission on Crime Prevention and the Stubbs Police Youth Club.