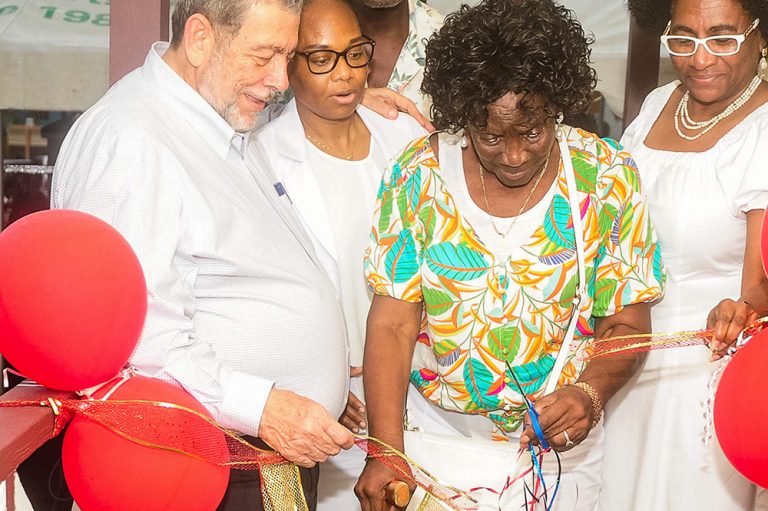 Front Page
November 14, 2023
New temporary clinic opened in South Rivers
A new temporary clinic, costing over half a million dollars, was officially opened in the community of South Rivers on Saturday, November 11.
Staff will move into the new clinic, in order to make way for restorative work to be done on the old clinic which is nearby. The temporary building will then be transformed into a health and wellness centre for the people of South Rivers and surrounding areas.
Work on the temporary clinic ran from March to October 2023 and was done by BRAGSA and local contractor Marcus James.
Speaking at Saturday's ceremony, Health Planner David Latchman said the construction of the temporary clinic is part of government's move towards the modernization of the health sector.
This includes the refurbishment of clinics across St Vincent and the Grenadines.
Latchman further stated that work on the construction of the new permanent clinic in South Rivers will begin in 2024.
Prime Minister Dr Ralph Gonsalves told the gathering that designs for the clinic are being done and construction work should begin by the middle of next year.
He said this new clinic will be funded by the Saudi Development Fund, and that the land has already been purchased for the construction of the modern health centre in South Rivers.
Apart from having a brand new temporary clinic, the Prime Minister promised that none of the old furnishings in the other building will be placed in the new clinic.
"I don't want no new building with no old thing in it."
"I don't want no old thing in South Rivers clinic," Dr Gonsalves stated.
The designs for the permanent clinic include accommodation for doctors and nurses.
South Rivers is in the North Central Windward Constituency which is represented by the Prime Minister.
Gonsalves said he would want to have 24-hour service available when the permanent clinic is opened.
As member of Parliament for the area, Gonsalves remarked "everybody will know that I am Prime Minister because of North Central Windward."
He added that people would also know that it is because of support from villages such as South Rivers, Park Hill, Colonaire, all the way up to Georgetown, why the Unity Labour Party government is still in office, after 22 years.
Students from the South Rivers Methodist School gave performances during Saturday's opening ceremony.
While addressing the function in South Rivers on Saturday, Gonsalves also spoke of government's plans to construct a modern home for indigent geriatrics.
The Prime Minister further revealed that the construction of the new home for geriatric inmates will cost between $10-13 million.
He explained that the new facility will be built with a capacity for 120 rooms, with space for expansions.
The original Lewis Punnet Home at Glen (Poor Home) was built with a capacity for just over 80 inmates.