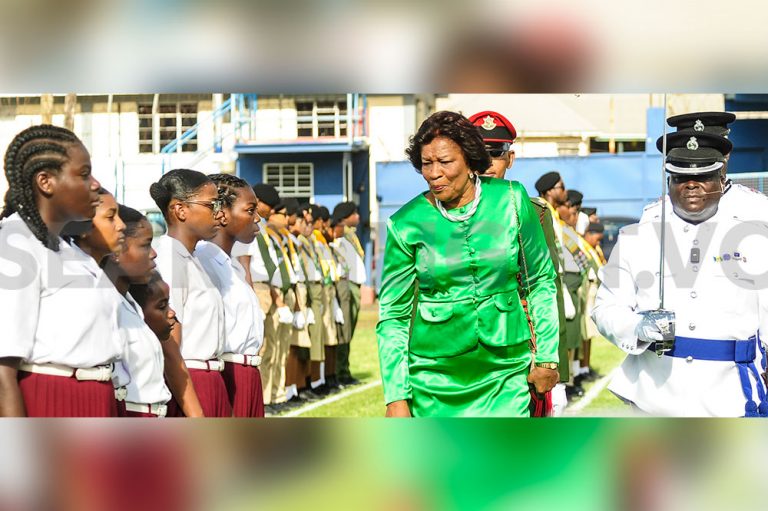 Front Page
October 31, 2023
'Independence from Fear' plan disclosed to combat violent crime
The Government has devised a plan to fight violent crime here, with illegal guns and homicides being among the main targets.
The plan, dubbed "Independence from Fear", was mentioned by Prime Minister Dr Ralph Gonsalves during his address at the annual Independence parade which took place at the Victoria Park last Friday, October 27.
The initiatives include a gun amnesty, the placement of additional CCTV cameras across St Vincent and the Grenadines (SVG), the use of body cameras for the police force, the placement of more street lights, the passage of crime fighting legislation within the framework of the Strategic Plan advanced by the Royal St. Vincent and the Grenadines Police Force (RSVGPF), the implementation of a structured programme to rehabilitate Police Stations and the expansion of an outreach initiative between the Police and the community through the Police Force and the National Commission on Crime Prevention.
"…Immediately following the passage of legislation next month to increase penalties for possession of unlicensed firearms and ammunition,… the idea is to get you to bring in the illegal fire arm", or face intensified prosecution and much longer jail-time," Gonsalves said of the gun amnesty.
2023 will go down on the history books as the bloodiest year to date with the most recent homicide taking place yesterday with the shooting death of another male. The homicide count for 2023 now stands at 44.
During his Independence message, two days before this recent killing, Gonsalves said that sadly, in the midst of our country's economic reconstruction process from several issues, there has been a tiny minority of persons who have chosen the rocky road of criminal violence and persistent vagabondry.
"They cannot, and must not, be allowed to disturb or threaten our haven, calm serene.
"I reiterate that this domestic challenge of violent crime demands the attention of the entire responsible society…," said the Prime Minister, who is also Minister of National Security.
Gonsalves said that every person and institution must play their part and these include, parents, the family, the church, the schools, the civil society, political parties, the spaces of sports and culture, the media, the business sector, and the state institutions (especially the Parliament), the Cabinet, the Police Force, the Law Courts and the Prisons.
"It is necessary and desirable also to ramp up further an efficacious cooperation with our regional and international partners in tackling violent crime.
"And let us all resist the temptation of plunging this national issue into the gutter of senseless, partisan political bickering. Only the criminals benefit from such unnecessary quarrels and unbecoming point-scoring.
"In fighting violent crime, we need, unmistakably, a sustained social solidarity of everyone, buttressed by the tried and tested, uplifting values of our civilization," the Prime Minister said.