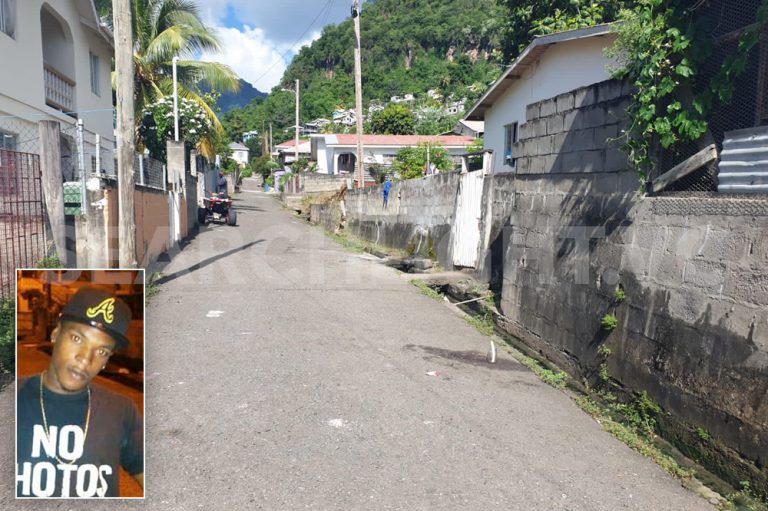 Front Page
October 17, 2023
Layou man shot, dies
When "Smoke" started working on the construction site of Sandals Resorts in Buccament a few months ago, he simmered down and started behaving differently.
So, when the young man, whose real name Delarno Kyle Corney Patrick, was shot and killed in the wee hours of last Sunday morning, some residents and family members were surprised.
But while some were surprised, others believe that maybe, his past had come back to haunt him or that he was targeted because of the company he kept.
Patrick, 33, of Layou, was shot at about 1 a.m. on Sunday, October 15, in Middle Street, Layou. Patrick was on his way home when he was accosted and shot about 10 times about his body, the gunman or gunmen using the darkness of the area to conceal his/their crime.
Patrick was transported to the Milton Cato Memorial Hospital (MCMH) and succumbed to his injuries at about 2 a.m., making him this country's 42nd homicide victim for 2023.
The dead man's mother Mitchelle Wilson told SEARCHLIGHT on Monday that she would like justice for her son and that the crime situation here is out of control. She resides in Barbados and flew to St Vincent after she heard of her son's murder.
"I feel real bad. My first son, I lost my first son at the age of 33 and I feel real bad," Wilson said while revealing that she has five children; three boys and two girls.
She said Patrick was her first boy child and he was good, "but when he ready he does talk".
Wilson said if he was involved in an altercation, he would look to make it better rather than pursue the situation negatively.
"I do not know why anybody would want to do that to him because the last time me and he spoke was Friday night and all he tell me he want his son to come back and spend Christmas with him and I tell him I was coming back next Sunday.
"And Sunday morning I hear them kill my son I couldn't believe," Wilson said while adding the Patrick's son is eight years old.
She said if someone is found guilty of murdering her son "let them go down", meaning the administering of the death penalty.
"They kill my son, they need back death too," Wilson stressed.
Patrick's aunt Mesha Patrick could not hold back the tears.
"I love him so much I can't even get over the shock of his death because I am so confused right now that I can't even…" Mesha said, while crying and adding she did not expect that to happen to him and she misses him.
"From the time he get that work (construction at Sandals Resort) he was cool," Mesha noted.
One resident revealed to SEARCHLIGHT that Patrick and this country's 37th homicide victim Jervarny "Luche" Baptiste were friends.
Baptiste, 29, of Ottley Hall, was shot around 8 am on Thursday, September 7 in Buccament while making his way to work on the construction site of the Sandals Resort. He was shot as many as 16 times and died on the spot in an area close to the Seventh Day Adventist Primary School.
The resident revealed to SEARCHLIGHT that Baptiste and Patrick would sometimes walk to work together after meeting on the Buccament main road, but on the day Baptiste was shot, Patrick had taken another route to work.
The residents said when Patrick heard Baptiste had been shot, he ran home to Layou and persons began spreading rumours that he was involved, with some even saying that Patrick was the one that did the shooting, an allegation they refute.
In 2014, Patrick lost four fingers on his left hand when he was chopped several times about his body by Vivian "Baje" Gibbs who was later jailed for the crime.
Persons with information that can assist with this or any other investigation are being asked to cooperate with police.