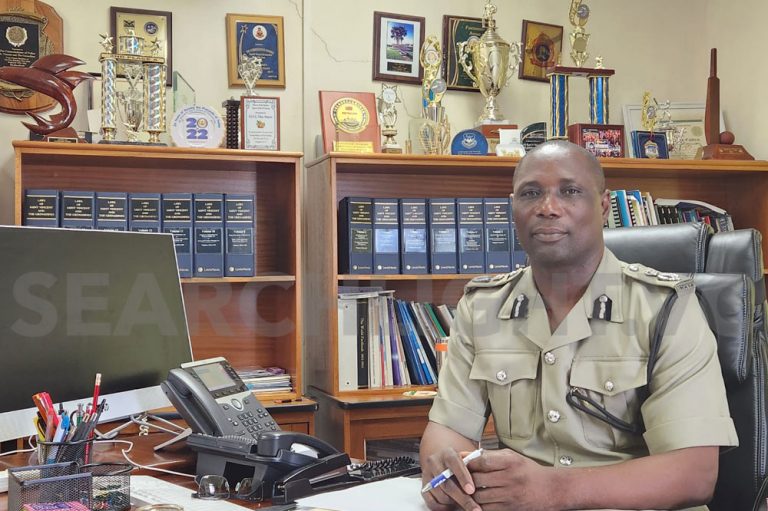 Front Page
October 6, 2023
New Commissioner of Police says better will be done
by Christina Smith
The country's newly appointed top cop, Commissioner of Police (CoP), Enville Williams, entered the St Vincent and the Grenadines Police Force (RSVGPF) on a whim after he came into Kingstown to pay bills and saw people from his village going to take the police examination.
The then 19-year-old made the decision to "tag along" and now, 31 years later, he has ascended to the chief position, his appointment being effective October 1.
The timing of his appointment is complicated, no doubt, as it comes as a result of the former CoP prematurely vacating the position; this year being three killings shy of breaking the homicide record and public confidence in the organization's ability to fight crime being arguably at its lowest.
The new CoP admitted there are areas of improvement that can be made within the Force and, less than a week into his appointment, he has given the Vincentian public the assurance that better will come.
"It is challenging for us. I would be the first to put my hand up and say that we can do better. The people of St Vincent and the Grenadines expect us to do better. We have been doing better and we will continue to push towards continuing to make St Vincent safe… I want Vincentians to sleep with their windows open without the fear of intrusion or being assaulted in any way, form or fashion," CoP Williams told SEARCHLIGHT yesterday.
When questioned as to if he recognizes that his performance as the new CoP will be under public scrutiny, Williams said Vincentians should not expect sweeping changes to come as a result of his appointment, adding, change will come as needed.
"Where people are looking for a wholesale change, I don't see where we are going to have wholesale institutional changes. Yes, we do have the need for change, but if there is a need for it, yes. People looking for a new man at the helm that will start going left instead of going right when perhaps going right is what we were doing right in the first place. From an internal standpoint we recognize there is a need for change."
One area of needed improvement the Commissioner highlighted was the lack of communication with the public in relation to any progress being made with murder investigations. Pointing to the recent mass shooting back in July which claimed the lives of five males, the youngest of which was a 13-year-old student, he admitted to the need for more updates on major crimes.
"For issues of national importance, we ought to reach out to the public because the public is looking to us to help alleviate their fears. Behind the scenes, the investigative team is working extremely hard to bring this, and all other murder matters to a conclusion. We ought to have said to the public before where we are."
He said while it might appear to the public as if no work is being done to bring criminals to justice, the police officer who has specialized in intelligence prior to his appointment told SEARCHLIGHT that investigators are working to ensure that cases are air-tight.
"The goal is not to just arrest somebody and then you go to court tomorrow and based on a technicality, then the matter is thrown out. It is more acceptable that you take your time and get it done correctly… so that when we present the case to the DPP (Director of Public Prosecutions), the file is strong and convincing."
Speaking on additional areas of improvement which the public can expect, the CoP promised to build on one of the changes that former CoP John was working to implement which mandated that police officers follow-up with complainants within a seven-day period after the initial reporting date, noting that having matters hanging in uncertainty is not fair to the public that police are expected to serve.
The re-establishment of a hotline where the public can call and report tips to the police was another assurance given, with a timeline set for the end of October.
"Fighting crime and violence has to be a shared responsibility. While police are tasked with carrying out this function, when we are all invested in it, the incidents of crime and violence will reduce greatly."
With a Force that numbers just over 1,000 collectively and the fallout from the drug trade that has resulted in a spike in murders recently, CoP Williams said collaborations with CARICOM Impacs and the Regional Security System (RSS) are critical to filling the technical gaps in the Force.
CoP Williams said he intends to build on the recently implemented crime-fighting strategies that came under Colin John's tenure, revealing that some plans were "shattered" while others continue to "bear fruit".