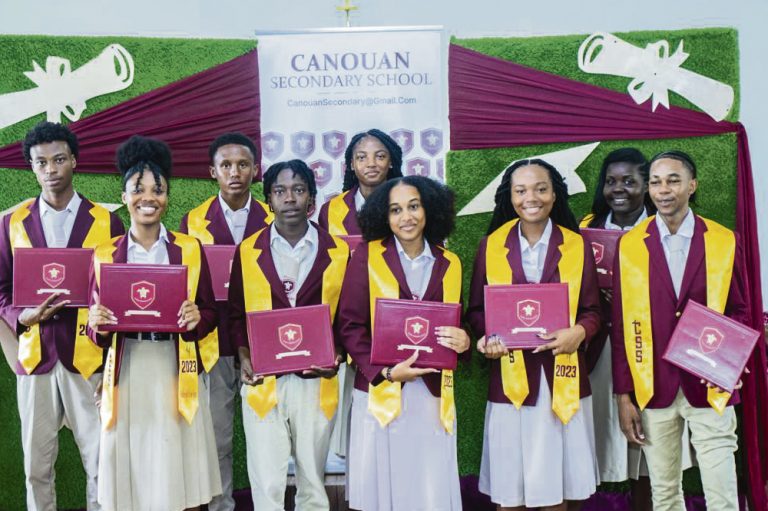 Front Page
October 6, 2023
Canouan Secondary School excels on its first attempt at CSEC
The Canouan Secondary School(CSS) Graduating Class of 2023 has inspired other students to do well in their upcoming examinations, after they placed fifth overall in the nation, on their first attempt at the Caribbean Secondary Education Certificate (CSEC) Examinations.
Students Dawson Rock, Naima King, Michaela Johnson, Troy James, Kiara King, Kyle Bardoo, Francisco Mitchell, Dreanique Dyer and La Toya Williams made up the first cohort of students entered by the CSS to write the 2023 Caribbean Examinations Council (CXC) CSEC exams..
Established in September 2019 with 19 students and six teachers, the Canouan Secondary School now has mounted up a total of 130 students, 15 teachers, with a range of 14 subjects to choose from.
And on the school's first attempt at these examinations, the students were able to acquire an overall pass rate of 89.86 per cent which surpassed the performance of 22 other schools in the country, placing it fifth in the nation.
Although principal of the school Terry Olliverre admits he was aiming for 100 per cent passes, he told SEARCHLIGHT in an interview that the students' success in the examinations is "a great achievement" for the school.
"It really is, and I think the whole community is elated…" Olliverre said, adding that the school is not only working towards maintaining its performance but to surpass it in the next external exams.
However, he said that not every student is at a "100%" with their mindsets going into their future exams but was left inspired by the 2023 graduates.
"Because of the pass rate of the class that gone out, you have persons inspired by that and those who are not there, then we just have to work on them and get that attitude and that positive mentality up so that they too can know that they can produce on that level."
Still, Olliverre said that he, along with the teachers of the school are aiming to attain 100 per cent passes next year.
"We are looking at it that the children produce to their maximum and we really mean that if they go for five subjects, they should get all five, if they go for 10 they should pass all 10…"
This year, three of the nine students who completed examinations obtained all passes in the nine subjects they wrote.
Eight students were successful in both the Geography and Social Studies Exams, and six students obtained passes the Mathematics exams. The school gained 100 per cent passes in all of the other subject areas.
Two students of the graduating class have travelled overseas and the remainder have enrolled at the St Vincent and the Grenadines Community College.