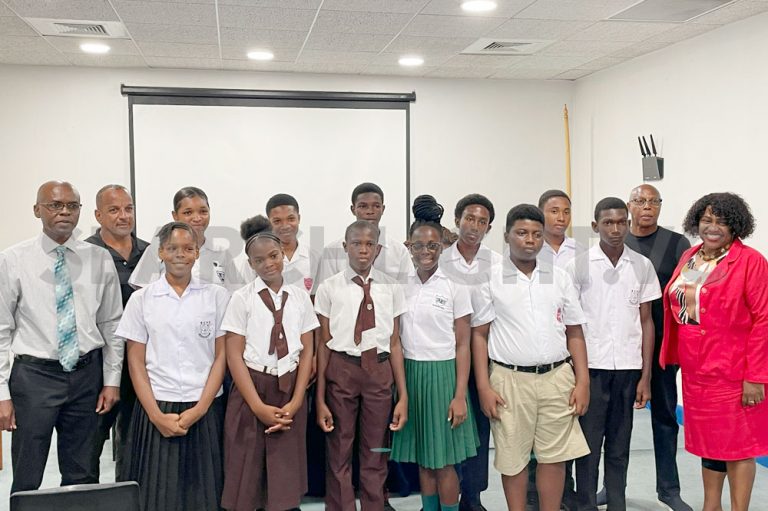 Front Page
September 29, 2023
Profits from 'Carnival Escape' donated to schools and charities in SVG
Ten Secondary schools and three organisations this week received donations totalling $55,000, the profit from all inclusive party 'Carnival Escape' held during Vincymas 2023.
MRI6, organisers of the annual party, handed over $5000 to each of the 10 schools for use in their school feeding programmes, while the Roman Catholic Church soup kitchen, the Society for the Blind and Mariposa Moon each received $2500. Mariposa Moon is a charity which provides sanitary napkins to under privileged girls.
At the hand over ceremony which took place at the National Public Library on September 27, Andre Iton, a member of MRI6, said that he is pleased that the group has doubled the number of schools that benefit from its donations.
"Last year we were only able to give five schools, this year based on the funds generated, we are able to give 10 schools…. The feedback we got from the five schools was very positive, so we repeated on those five schools and we added an additional five schools."
Iton is hopeful that next year, the group will be able to add an additional five schools.
"Our goal is to be involved in a way, where we can, in what ever modest fashion, we can make some contribution to the betterment of the society we do care a lot about."
Also giving brief remarks was Keith Boyea, another MRI6 group member. Boyea acknowledged that this year marks 12 years since the group started hosting its events and donating the profits made.
Boyea said that in the past, the group made several donations towards the hospital and over the last two years, they added a special focus on the schools.
"We've done a lot for the hospital, for the kids from special needs, but for the last two years, we decided to concentrate on the secondary school feeding programme."
The MRI6 group member shared that the group got its name in 2009 when their focus was on providing a CT scan machine for the hospital. At that time, the group had six members, but are now down to three active members, with the other three being on standby.
"We do a lot of things, but whatever we do it's really to bring some mature entertainment to St Vincent, then everybody has a good time and we generate enough funds so we can help the needy in the society."
Senior Education Officer for Secondary Schools, Dr Godwin James thanked the MRI6 group on behalf of the Ministry of Education for their donations to the schools and reminded students that education is everyone's responsibility, including theirs. Chief Education Officer, Kay Martin-Jack also thanked the MRI6 group for their continued donations to the secondary schools.
The schools that received donations were: Bequia Community High, Georgetown Secondary School, Buccament Bay Secondary School, Intermediate High School, St Martins Secondary School, Bishops College Kingstown, North Union Secondary School, Campden Park Secondary School, Dr JP Eustace Secondary School, Union Island Secondary School.