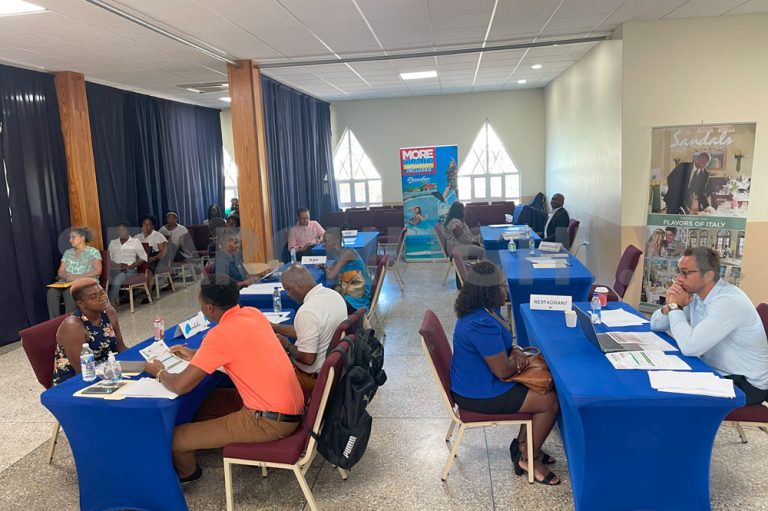 Front Page
September 29, 2023
Officials looking for right fit at Sandals Job Fair
Today is the final day of Sandals job fair during which Sandals Resorts hopes to hire close to 800 Vincentians as the grand opening of Sandals St Vincent draws closer.
"We're looking for young, bright talent. We're looking for folks who are willing and want to grow with us, we're looking for folks who want to be in a career with us," Winston Anderson, Managing Director of Sandals Resort International told SEARCHLIGHT on Tuesday, the first day of the job fair.
"We're looking for close to 800 team members, so we really want to interview as many people as we can and so far, just what we've seen, with folks who have come out, we've seen a lot of young, bright persons, most importantly we're seeing some great personality."
Anderson said the attitude of the candidates is important in the hospitality industry.
"I keep going back to the words 'attitude' and 'personality' because that's what hospitality is made of."
The Managing Director added that some positions may require past work experience, or skills, but if the candidate is young, and has a passion for the position, Sandals is willing to train the person and help them develop.
He added that along with extensive training for the position, candidates will develop customer services skills.
Anderson said that after the four days of interviews, an assessment will be done after which, persons will be contacted within the next two weeks.
He however said there is a chance that persons may apply for a specific position but after interviewing and being assessed, they may be placed in a different position than what they applied for.
Sunil Ramdeen, Regional Communications Manager for the Eastern Caribbean, shared his excitement about the Sandals job fair as they are edging closer to the opening date in 2024.
"We started today, we're interviewing for all positions, so we're excited to have folks come in."
The job fair features positions in various departments; Food & Beverage, Administration, Engineering, Communications, Kitchen as well as a catalogue of other positions.
"We have a huge interview process going on, we have a team here, a big team of us from Sandals. We have over 40 persons here doing interviews, helping to co-ordinate the process."
The Managing Director told SEARCHLIGHT that the resort is at an advanced stage in terms of construction and is on track for opening next year.
The job fair runs from 8:00 am to 4:00 pm today.