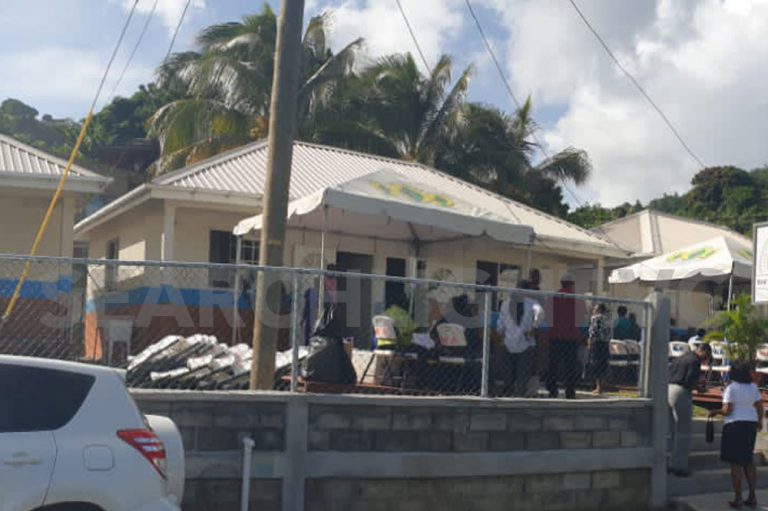 Front Page
September 26, 2023
Shopping centre opens at Glen to house PRYME grant recipients
A $500,000 shopping centre that has been constructed at Glen has given a significant boost to six small business operators from the East St George community.
The initiative, dubbed "The Shops At Glen" was officially opened yesterday and three of the six entrepreneurs who will be operating businesses at the new facility spoke to SEARCHLIGHT about their journey towards having a home for their small businesses and how the government-funded Promoting Youth Micro Enterprises (PRYME) grant helped push them to the next level of their entrepreneurial journey.
Ackeisha Davis of Glen, a hairstylist, said she has been plying her trade as a hairstylist for the last 32 years, having started at the Intermediate High School (IHS) where she styled her teachers and classmates hair and as a result built a clientele.
Through the PRYME Grant, Davis was able to expand her business and now has a home at "The Shops At Glen" called "Empress Keisha Hair Salon".
"After I left school, I went on, taking courses seriously and enjoying what is hair as hair is my passion. That is what I love doing," Davis told SEARCHLIGHT. She added that a few years ago, she was sitting near to the public bath in Glen when area representative Camillo Gonsalves was making rounds in the community and she asked about having a home for her business.
"Camillo passed and saw me and I was encouraging him to build some shops and he said he will look into it and he did.
"I feel very proud of myself, happy, words can't explain, and I would like to say thanks to the PRYME grant for helping us to reach this far and also to Camillo for all that he has done and continue to do for us," Davis said.
She and the other tenants will pay $5 a month to occupy the spaces.
Another tenant at "The Shops at Glen" is Shellyann Durham who said she is "very happy" that she has been afforded a place to ply her trade. Her business is called "Shelly's Fabulook Spalon" and offers manicures, pedicures, facials, massages and acrylic nail installations.
"I have done many courses in the community at the Glen Learning Centre and it has been a good opportunity for me and I am glad that they (PRYME) see me as a good person in the community and therefore I got the opportunity to get this shop.
"I want to eventually extend and go on a bigger journey and PRYME has helped me to reach this far," Durham commented.
"Today I feel so great that I am here to enjoy what I put into every course that I did and I feel proud of myself," Durham told SEARCHLIGHT.
Deondre McDonald, one of two barbers at the new complex said he has come a long way. His shop is called "Deondre's Barbershop" and the young businessman said he moved from working for other barbers to now owning his own barbershop thanks to PRYME.
"I pass through few barbershops including Southy's Barbershop in Kingstown before I went to the United Kingdom and did some time with my dad.
"I am feeling proud to own by own shop," McDonald said while noting that he was born and raised in Glen and is happy to now operate a business in the area.
"Everything is excellent now because when I came back from the UK I wasn't doing anything and the PRYME grant came around at the right time."
"The Shops At Glen" is a government-funded component of PRYME designed to further help PRYME grant recipients to develop.
The complex has three building blocks with two stores each, as well as toilet and shower facilities.
The opening ceremony heard addresses from Prime Minister Dr Ralph Gonsalves; Minister of Finance, Economic Planning, and Information Technology Camillo Gonsalves; Minister of Transport, Works, Lands & Surveys, and Physical Planning Montgomery Daniel; Chairman of the PRYME Steering Committee Anthony Regisford among others.