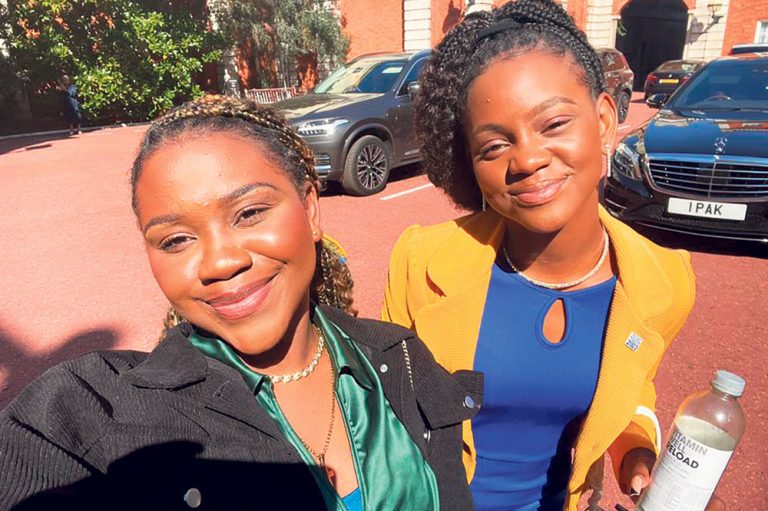 Front Page
September 22, 2023
Vincentian singing sisters wow audience at Commonwealth Youth Awards
Two Vincentian sisters, one who came out of the womb singing and the other who discovered her unique voice at a young age, made their presence felt at the 50th Commonwealth Youth Awards last week in the United Kingdom.
Rhobyn and Leah, age 21 and 19 respectively, were guest performers at the awards ceremony which is held annually to recognize youth leaders from across the Commonwealth who have made strides in transforming their countries.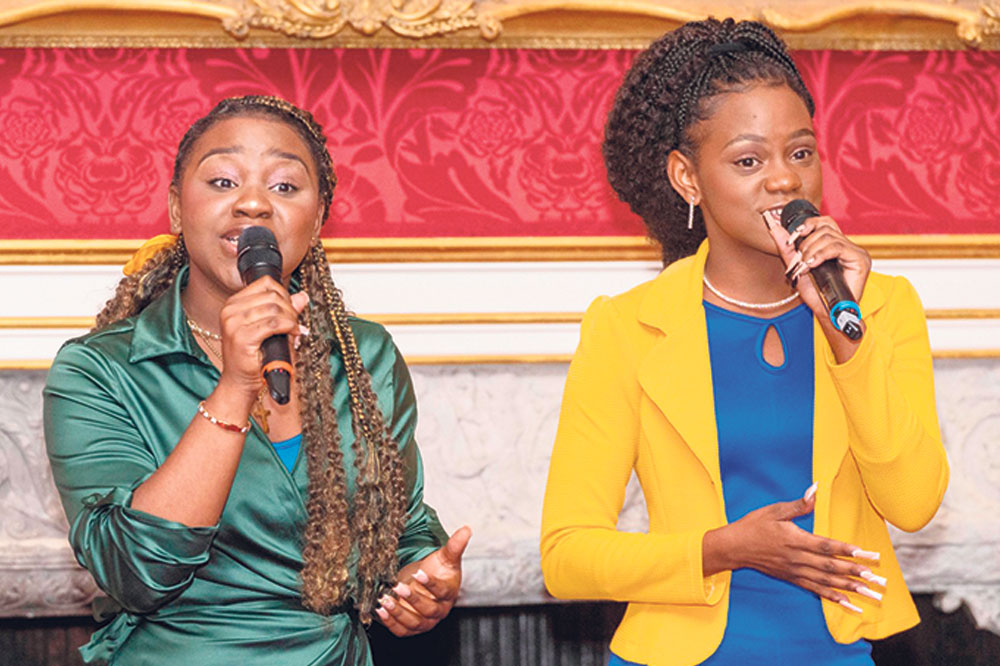 The Barnabe sisters traveled from St Vincent and the Grenadines to St James's Palace in London to deliver an original song at the September 14 ceremony after receiving the invitation from the Commonwealth Secretariat just three weeks before the awards ceremony.
And while last week Thursday's performance was a tear-jerking rendition from the two sisters who have built their relationship around singing, some major hiccups threatened to derail their appearance before they even arrived.
The first came when they were informed that, due to copyright issues, they would not be able to perform a cover song as planned.
"I went into a fenzy and asked myself what are we going to sing? We wanted to sing something that would capture the essence of the Caribbean spirit and what we are as a people. It was a stressful time because it was just days before we had to leave," Rhobyn explained in an interview with SEARCHLIGHT.
The duo eventually settled on an original song called 'Level Up' which speaks about daring to dream big and making the dreams a reality and was written by Rhobyn when she was 17 years old.
With one sister working full-time and the other pursuing undergraduate studies, it was a headache settling on rehearsal times, but Leah said they recognized it was essential for them to perfect the performance.
"With my schedule and her schedule … it was a matter of we had to make time! Regardless. We had to make sure that everything was on point."
Just when it seemed like smooth sailing heading to the UK, flight delays and mix-ups occurred, forcing them to have to overnight in Barbados and arrive into London later than anticipated.
"There were booking issues, the flight got delayed and then we were double-booked for two different flights. It was up and down. It could have shifted our whole mind-set from the performance but … we used that time to settle our minds."
The sisters performed alongside spoken word artistes, singers and dancers from Asia, the Pacific and Europe and while the road to St James's Palace had a few potholes, Leah told SEARCHLIGHT the performance and feedback exceeded their expectations.
"We weren't that nervous because we had each other. It was good to know that the song touched people. It is an inspiring message."
The feedback, which was described by the singers who reside at New Montrose as "phenomenal", has prompted them to do a professional recording of the song which should be completed in a couple of weeks.
"A lot of times you do things and don't realize the beauty of it until someone points out just how impactful it is. That was like an aha! moment for us. We didn't expect people to be that struck by it," Rhobyn said.
Leah, who is set to head off to pursue a degree in International Studies, said she intends to place singing back to the top of her priority list soon. Earlier this year, the soft-spoken lass released her debut single, 'Voices', a collaboration with Canadian-based group, The Melisizwe Brothers.
Rhobyn, who is nearing the end of her academic journey at the University of Wales Trinity Saint David where she is pursuing a Bachelor's degree in International Development and Global Politics, said the opportunity to use her talent to promote her country was divine timing as it came just one month after she emerged from her one-year hiatus from singing.