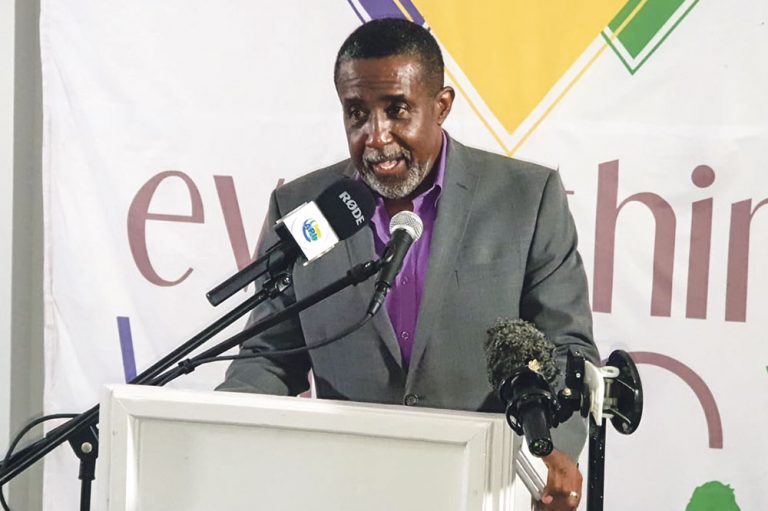 Front Page
September 22, 2023
Digital and Financial literacy needed for SVG to move forward says Invest SVG Chair
Digital and financial literacy are important and St Vincent and the Grenadines (SVG) needs to become a digital economy in order to effectively compete regionally and internationally where business is concerned.
"It is very important that we become a digital economy, I can't put it another way, and to do that we have to change our culture, the way we do things, we have to start thinking less of this (paper)…," Chairman of Invest SVG Anthony Regisford said on Wednesday September 20 while holding up a sheet of paper.
Regisford, who is also the Executive Director of the Chamber of industry and Commerce, made the statement at the media launch of Everything Vincy Expo Plus 2023 at the La Vue Hotel in Villa.
Regisford, a former Cable and Wireless (now FLOW) executive, said a few years ago when Cable and Wireless introduced mobile phones to the Vincentian public, the company made the assumption and mistake that it was a luxury item and had to be marketed to a certain cross section of society.
"… They targeted a particular bracket of people and in came Digicel and proved them wrong; momentum was gained at the grassroots," Regisford noted. He added that the possibility exists that we will make the same mistake if we think people at the grassroots are not going to embrace digital technology when it comes to things like payments.
"We are going to make the same mistake to think people will never use digital money, they would never accept payment by phone, a market vendor will never do that.
"They are the ones who are going to do it, trust me. They are the ones who going to do it before Laynes and Coreas, and I'm not putting Laynes and Coreas in any bad light, I am just saying let us not make these mistakes, let us not make these assumptions that going digital is a barrier, because we run the risk of alienating people who don't have access. Everybody has access, everybody has a smartphone," Regisford told the gathering at La Vue.
"We have to understand, and this excuse that we use, that people, we run the risk of alienating people if we move too aggressively to these digital platforms, I do not buy it," Regisford further stated, while noting that in SVG, there is a positive penetration of smart phones.
Regisford said the results of a recent financial literacy survey, issued this week by the East Caribbean Central Bank ranks SVG, within the OECS, as having the highest cash transaction rate and this is not something we want to lead on.
He said Invest SVG has to be the champion of financial literacy.
Speaking about the upcoming Everything Vincy Expo Plus 2023 (slated for October 26 to 29), Regisford said persons are going to be exhibiting goods and services and they would want to exchange money for these goods and services and the ease with which we can move money around will facilitate growth while also creating employment, hence the need for digital and financial literacy.
He said we not only must create, but we have to market and Invest SVG has to champion the modern way of doing business, but in SVG, there are "quite" a few things that need to be done to modernize the way we do business.
Also present at the media launch were Minister of Finance Camillo Gonsalves, Executive Director of Invest SVG Glen Beache and Honorary Counsel of the Cooperative Republic of Guyana Nigel Russell.