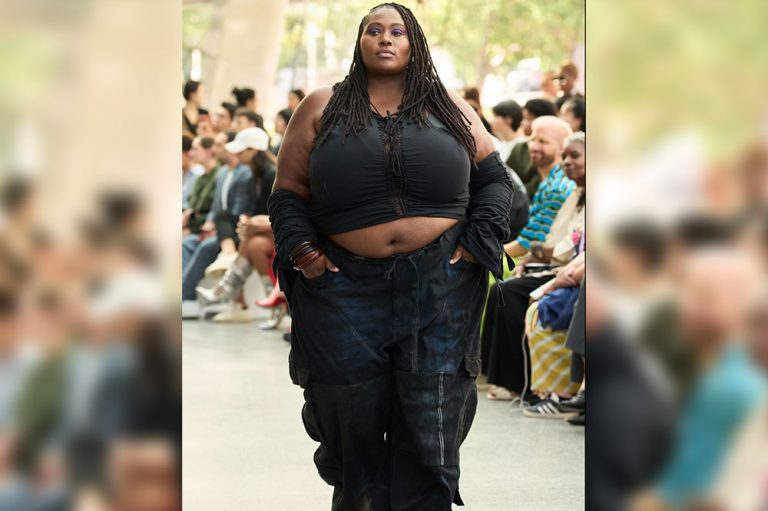 Front Page
September 15, 2023
Vincy-American model represents for full-figured women on NY runway
by Christina Smith
If Jezra Williams had it her way, plus-sized models would be featured on every runway, at any and all fashion shows- from local and international.
In addition to flying the Vincentian flag during New York Fashion Week, the 37-year-old body-positive activist also represented for full-figured women.
She lived out a childhood dream of hers on September 11 when she owned the runway at the Parsons MFA Show wearing a piece from designer Mel Corchado in the Spring 2024 Ready-To-Wear collection. The fashion show showcased the work of students in the MFA Fashion Design and Society program and was featured in Vogue Runway.
Although the fashion show was her first, the New York based model is in no way new to the modelling scene having been featured in magazines and brands such as Harper's BAZAAR, Essence Magazine, KAMOY Magazine, Forever21, Pop Up Plus and a host of others.
The pieces of the puzzle which led Jezra to this fashion show, as she told SEARCHLIGHT, fell into place easily.
"I followed this casting director on IG [Instagram] so I had seen that she posted about the show and that they are looking for models so I sent in my comp card … they emailed me the next day that they wanted me to come in. The following day they said they would like for me to be in the show. It wasn't too much of a hassle."
While casting was a breeze, the mother of one said things got a bit more intense on show day as the models were being prepared for the runway.
"The atmosphere was hectic, it was very crowded with something like 75 models which came with a whole team of makeup and hairdressers and assistants. It was a busy chaotic day but everything worked out the way it was supposed to."
Then came the spotlight moment for Jezra which she said exceeded her expectations.
"I was definitely confident. With all the guests there I was a bit nervous like I was making sure I don't fall but hopefully no one saw it on my face. I was a little nervous but I tried to hide it…. it was a really good experience. "
She revealed that she was the only full-figured woman featured in the show and she praised the show directors and organizers for their move to include a diverse cast of models.
"That part (diversity) I was very happy about. I noticed that a lot of people are doing that. It is showing that there is some hope for my size on the runway. There is so much diversity in the world … so to have one set of people on a runway every year, it gets boring."
"Being that I am a more fuller figured than society's plus size … I am not seeing enough which is sad. For the show I was only model my size. There was another girl who was plus size but she was more on the slimmer side."
Jezra said her hope is to see full-figured women and men represented in all aspects of fashion.
"We have women and men who are on the bigger side. we need to see representation. Lack of representation can make people feel like we are not wanted or we don't want to be seen and we do."
The response from friends, her Mesopotamia family and online followers has been tremendous, Jezra said, adding she is especially pleased with the fact that there has been no negative comments coming her way.
She also said she hopes that her participation in the fashion show will lead more plus sized women to gain confidence as well as to motivate and inspire them to chase after their dreams.