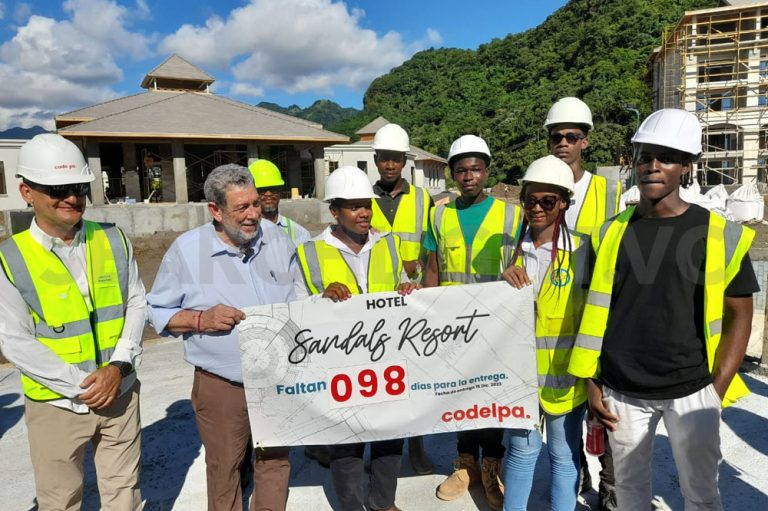 Front Page
September 15, 2023
Sandals steps closer to 2024 opening date
With just over 90 days remaining for construction work at the Sandals site at Buccament, a job fair will be held this month as the company seeks to fill management and supervisory positions.
During a tour of the site on September 8, head of CODELPA (the main construction company at the site) Alvaro Peña displayed a counter which read 98 days; the number of days remaining for construction and before the start of the next phase leading up to the opening.
Regional Project Director of Sandals International Terence Des Vignes said the company is pushing for a mid-February 2024 opening and beginning September 26, the company will hold a job fair in
an effort to fill jobs at the resort including management and supervisory positions.
Once construction comes to an end, the next phase, according to Des Vignes involves finishing touches like landscaping as he tries to close out the project in time for what he called "The Prime Minister's event". The Prime Minister's event is the summit of the Community of Latin American and Caribbean States CELAC scheduled for February 2024.
According to Des Vignes, the aim is to complete the luxury suites as well as several other high end rooms by the middle of December. Completion includes fitting with furniture and all mechanical, electrical and plumbing (MDP) components.
The company is also pushing to complete the main pool, said to be one of the longest in the Caribbean; facilities on the northern side which include a rum bar and three restaurants, a facility which will be surrounded by local vegetation like fruit trees, "so guests that come here can understand what St Vincent and the Grenadines in terms of agriculture is about," said Des Vignes.
Des Vignes said the resort will be a picturesque one as the lobby will offer guests a view of palm trees, water and the beach as they check in.
The resort will also boast facilities that cater to staff, with a canteen serving breakfast, lunch and dinner to staff members, a staff gym and a football field that will allow for games between staff and guests.
Des Vignes said the resort will include accommodation for 116 staff members who live in areas that are hard to reach after hours.
At present, 600 persons are employed at the construction site, half of them locals and the aim is to bring this up to 800 as they try to complete construction.
"Our aim is to have all these areas ready for February 15 for the Prime Minister's event at the end of February," Des Vignes said.
He noted that the Minister of Agriculture met on Monday September 4 with Managing Director of Sandals Resort International in the Eastern Caribbean Winston Anderson in St Lucia and held discussions on how to implement and integrate this country's agricultural sector into the Sandals mix.