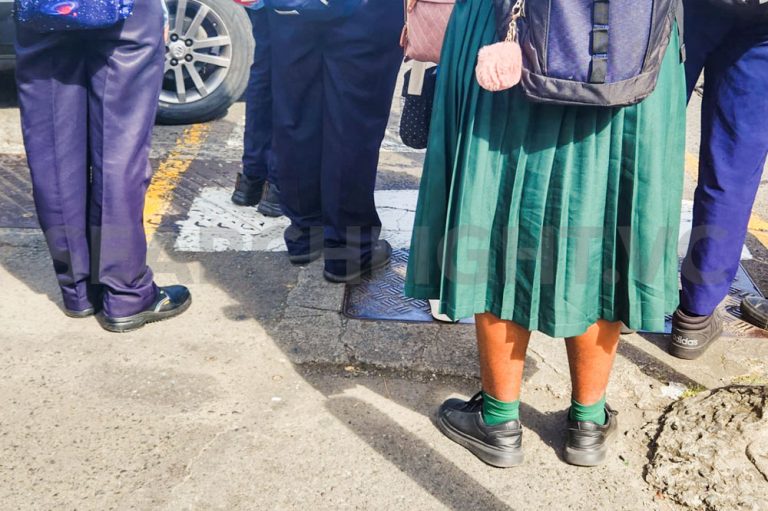 Front Page
September 12, 2023
SVGTU calls for heat relief for teachers, students
The St Vincent and the Grenadines Teachers Union (SVGTU) has taken issue with what they regard as a lack of effort on the part of the Ministry of Education to implement measures for schools to deal with the heat wave affecting the country.
Temperatures within recent weeks have been soaring with the SVG Meteorological Services (SVG Met) recording temperatures in excess of 31°C (87.8°F)since the start of September. The highest afternoon temperature recorded for the month of September was 31.7°C (89.06°F) on the 7th.
Last Friday, the Ministry of Health, Wellness and the Environment issued a heat warning advising Vincentians that warmer than usual temperatures were anticipated in the coming days. The advisory from the Ministry advised persons to wear "light coloured loose-fitting preferably cotton clothing" if allowed under the dress code.
Public Relations Officer of the SVGTU Fiona Charles said she has witnessed first-hand how students are being affected by the heat, especially those who wear thick uniforms.
"I think one of the things we have to start looking at when we talk about school readiness is to understand that climate change is real … this heat is no joke. The uniforms that the children wear to school is not breathable."
"These classrooms are not cool … it is hard for me to teach in a hot environment and it is even harder for some of these children especially those in the khaki uniform. They are sweating and drenched…"
SVGTU Industrial Relations and Research Officer Andrew John described students and teachers as being "trapped' as a result of rising temperatures, pointing to the Kingstown Anglican School as one school plant where teachers have complained about the heat.
"Some teachers are saying that, especially in this heat, they are saying that they cannot function. It is like the children are trapped, the teachers are trapped and we are not seeing effort put in place."
John said with no relief on the horizon from the heat wave, the Ministry of Education needs to step in and provide relief for teachers, staff and students.
"We have not seen any effort on the part of the Ministry of Education to deal with this issue. We have not seen them provide water or access to fans…. It (the heat) puts a lot of pressure on the schools – the principals and the teachers. The principals have to speak out. They cannot sit idly by because now it becomes a health hazard."
The heat wave affecting the Caribbean is expected to continue until October, with temperatures increasing steadily from August through to October, as stated by the Barbados-based Caribbean Climate Outlook Forum (CariCOF) in its heat outlook for August 2023 to January 2024.