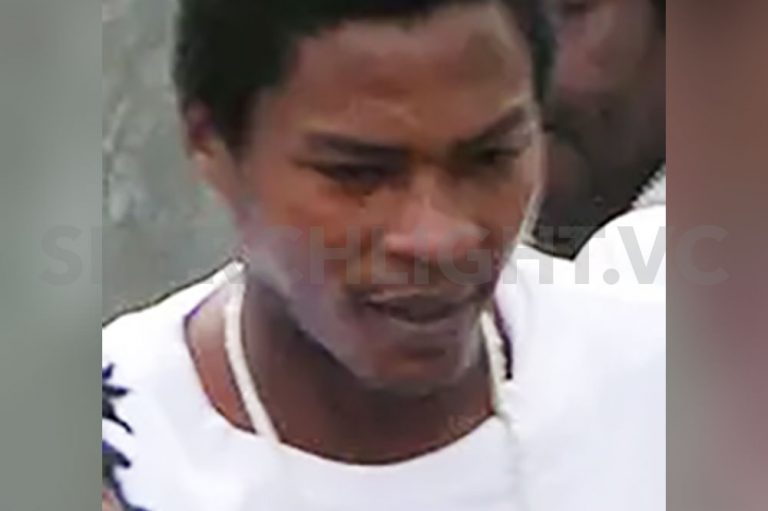 Front Page
September 12, 2023
Cribbit's life of crime comes to an end in a hail of bullets
The life of crime of Jamal "Cribbit" Finch ended in a hail of bullets last Friday night.
The career criminal, originally from Kingstown, but who had been living in Sion Hill after having been deported from at least three different countries, was walking along the Mala Village public road at around 11.55 pm when he was accosted and shot about 16 times.
Residents recall hearing gunshots from what appeared to be two different calibre weapons, one of them of the automatic type that one woman said "shake down me house".
After being shot, photos started appearing on social media, showing Finch, 41, on the ground bleeding and oozing what appeared to be bone marrow.
Finch rose to notoriety on June 30, 1999 when he almost severed an arm of Calliaqua resident Otis Shearman during the graduation ceremony of the Intermediate High School (IHS) which was being held at the St Mary's Roman Catholic Cathedral. Shearman was chopped during the school event and Finch was charged with wounding.
Finch, 17 at the time, was said to be aiming for Shearman's neck, but the student held up his arm to block the chop and almost lost the limb and spent two weeks in hospital.
Finch was in 2002 sentenced to three years in prison by High Court judge Odel Adams after he pleaded not guilty (he later changed his plea to guilty) to wounding Shearman with intent. He was 20 at the time of the sentencing and claimed that Shearman had stabbed him prior to the incident.
The judge stated at the time, "In all my years at the Bar, I have never known of a wounding taking place in these circumstances. It's a heinous crime; it calls for life imprisonment!"
The 1999 crime seemed to have kick started Finch's run-ins with the law. In 2001, Finch was remanded to Her Majesty's Prison (HMP) for gun, ammunition and marijuana possession and in February 2002, he received a seven-month suspended prison sentence for possession of a nine millimeter firearm and was fined for the bullets and marijuana.
A fourth charge, that of wounding Stanley Lewis of Cane Garden in November 2001 was put off.
Finch was also in the media for a November 21, 2001 incident when he was hospitalized after being stabbed about his body and head with a broken bottle when he was placed in a cell with an inmate who had been previously charged for wounding.
Finch was also in trouble in March 2004 when Station Sergeant Calvin Glasgow, who was attached to the Traffic Department, saw Finch, 22, at the time, with a handkerchief in his hand, standing in the area between the Traffic Department and the Immigration Department at the Central Police Station, making signs to one of the prisoners cleaning the compound. He immediately accosted Finch and took him to the office where he conducted a search on his person and found 29 grammes of cocaine in Finch's handkerchief and nine grammes of marijuana in the right side pocket of his pants.