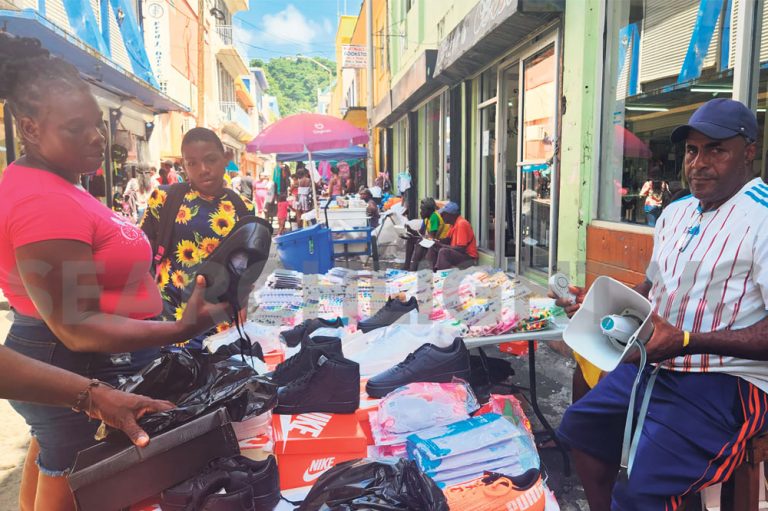 Front Page
September 1, 2023
Parents struggle with expenses as new school year approaches
Stories by Christina Smith
Textbooks, notebooks, stationery, backpacks, shoes and of course uniforms – the long list of items needed to equip children for the new school year is draining the pockets of parents with some spending close to $800 on supplies for just one child.
SEARCHLIGHT spoke to parents, some who are preparing one child for school and others who have up to three school-aged children, and they all admitted to being stressed by the cost of the items.
Purchasing items from overseas, reusing supplies from last year and spreading out expenses over a period of time are some of the strategies used by parents to try to manage the heavy financial burden of the new school year.
A Belair mother of a Grade 1 student said she was shocked by the prices of shoes and book bags during her shopping trip.
"Even though my child is at the primary school level and not many text books are required, the cost of everything else was what was worrying to me.
"As I roamed the streets of Kingstown trying to find items suited to my child's likeness I was shocked to see bags being sold for $200-$300 and a good long lasting school shoe was $350 and up."
With few options for securing reasonably-priced items here in St Vincent and the Grenadines (SVG), the mother told SEARCHLIGHT she opted to purchase items online.
"Although I wanted the best for my child, I was not prepared to pay a ridiculous amount, so instead I shopped online and had most of everything that was needed shipped in…. In the end I spent close to $800."
The cost of bags and shoes was not the only surprise for some parents, as a mother of two; a Form 1 student and one pursuing tertiary studies said she believed the prices of school uniforms and textbooks would be a burden for parents.
"I thought the uniforms were a bit pricey. One uniform was $66 for the pants and the shirt and they are not allowing you to buy one pants and five shirts; you have to buy them as a suit. So if you want five shirts, you have to buy five suits."
The mother of two also lamented the price of exercise books which cost her $60 for 24.
The high cost of books was also echoed by another mother who is tasked with preparing three students, two secondary and one primary, for return to classes.
"You getting assistance from the book loan, but then the books you are getting are the cheaper books and then you have to buy the more expensive books.
One textbook costing you 70-something dollars."
The mother of three said she spent almost $500 in one shopping trip and that only covered some of the required supplies.
A major stressor, the mother of three said, was that the obligation of utility bills still had to be met, even as parents were under immense financial stress ahead of September.
She noted the recent disconnection exercise conducted by the St Vincent Electricity Services Ltd and said it was a tricky balancing act to cover bills and do back-to-school shopping.
"Around this time you may pay something on your bill because you still have the [school] things to buy. It's piece-piece I've been buying school things."
She suggested an approach where private sector businesses could assist employees via a stipend for students of good academic standing.
The opposition New Democratic Party (NDP) earlier this week made a call for government to implement a tax holiday on school items ahead of the new school term".
The NDP said in a release inflation has been putting financial pressure on Vincentians.
"In June, inflation rose to 5.3 per cent – the highest it has been in fourteen (14) years, putting greater burden on Vincentians.