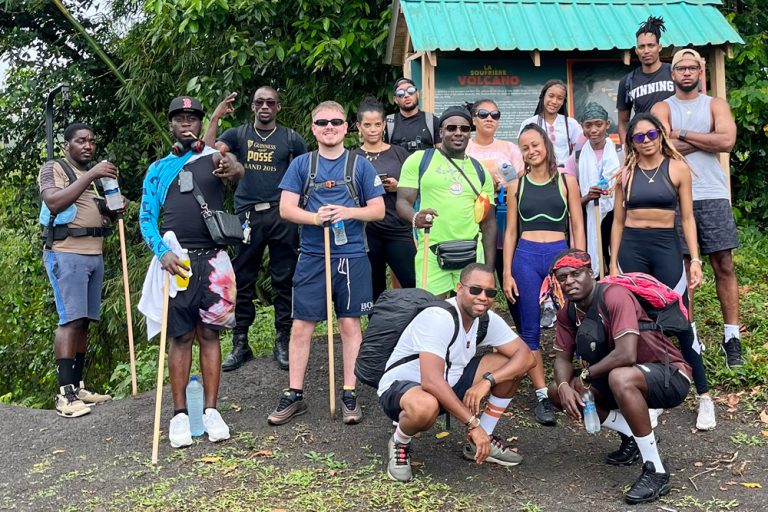 Front Page
August 22, 2023
Vincentian film maker leads local team in creating music video for UK rapper Mist
Members of the local film industry continue to show that their expertise, knowledge and professionalism can translate to international exposure.
This, as Aiko Roudette, local film maker, producer and director of the Hairouna Film Festival has led a team of locals that has just completed a music video for United Kingdom (UK) based rapper Rhys Thomas "Mist" Sylvester (signed to Warner Music Group), his manager David O'Sullivan and award winning music video director Nathan James Tettey.
The song is called "Pull Up" and features UK/Congolese rapper "BackRoad Gee".
The music video was shot between August 7 and 11 and is expected to be released on Thursday, September 7.
The crew also shot a trailer for the album "Redemption" which is expected to be released on September 8, one day after the locally shot video for "Pull Up".
Roudette, who is fresh off her participation at the Berlin International Film Festival told SEARCHLIGHT the local film crew members were all Vincentians. The team included herself (producer), Jason Providence (director of photography), Dante Ollivierre (second camera), Josephine DeFreitas (junior stylist) and production assistants Sulani Roberts and Victor Connor.
She explained that "Mist" has Vincentian roots so he wanted to do the video in St Vincent and the Grenadines (SVG) and it was done across 10 locations in places like the Little Tokyo Bus Terminal, White Sands beach, Murray Village, La Soufriere, the Vermont Valley, Balliceaux, Rose Place, Brighton and along the Windward coast.
Roudette said this is her first music video and the production was "a great success."
She added, "I think the whole crew really enjoyed the production. We travelled to all these different places so it will showcase a lot of different parts of the county and it was great to work with such accomplished artistes.
"…And Nathan is an experienced director so the crew enjoyed the experience. We learnt a lot from being on the set and I think that everyone feels inspired to do more work like this.
"I think that I would like to stress the whole crew had a really great experience working with Mist and BackRoad Gee and Nathan."
Mist and BackRoad Gee's music videos usually rack up millions of views on YouTube as they are established UK rappers, while Tettey is considered a "cornerstone" and "creative spark plug" of the UK music industry.
Roudette said the shoot was a "huge success" and the employers are "really happy and excited" to release the video.
The local producer said the music video demonstrates that there is a local crew that is able to deliver to international standards.
"They worked hard and delivered and the crew was amazing," Roudette stressed while noting that there was quad biking, a hike up the volcano, Fort Charlotte and other iconic local places.
"…So the music video is a great show case," Roudette noted, while adding that Mist and his crew ran into and chatted with Prime Minister Dr Ralph Gonsalves at the Argyle International Airport (AIA).
"With such extensive locations and long hours, this team pulled together with remarkable success to make this music video happen, demonstrating the extent of film making talent and capability that we have here in St Vincent and the Grenadines. This crew proved themselves to be of an International standard where it comes to film production.
"This is one of the hardest working, patient and professional crews I have ever worked with. This really was a team effort, and in my opinion we represented St Vincent and the Grenadines really well. Mist, BackRoad, Nathan and David all had an amazing time, and are extremely pleased with the outcome," Roudette stressed.
She expressed thanks to the Government, Minister of Culture Carlos James, Storm Gonsalves, taxi driver Orlando Browne, Guardsman security, AirBNB host Jake Heimann, Bully's Bar in Rose Place/Bottom Town, the community of Murray's Village, Paul Cyrus, Zen Punnett, Rocky Punnett, Javid Collins, the DJ duo of Alex and Jayden, Jasper YMC, and artiste Mason.
Roudette said Mist, with roots in Murray's Village, enjoyed connecting with his Vincentian heritage and "can't wait to come back".