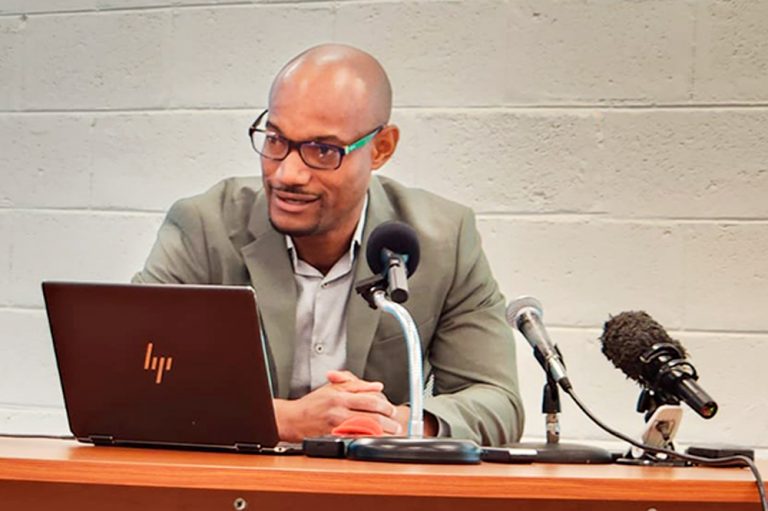 Front Page
August 22, 2023
Government investment not a major concern, NIS director assures
The National Insurance Services (NIS) investment in government financial instruments, including loans and bonds, is not a major cause for concern, according to NIS Director, Stewart Haynes.
Speaking to the media during a stakeholder consultation on the 11th Actuarial Report, prepared in 2019 and presented in 2021, Haynes said that he has noted the murmuring coming from the public with regard to the amount of government debt that is held by the NIS.
"As of June 30, 2023 NIS had $49.8 million invested in the government of St Vincent and the Grenadines, by way of loans and bonds. That represents a total of 11 per cent of the total portfolio. We also look at the maturity; how long it will take for NIS to get their monies back? Roughly 4.1 years," Haynes told media representatives at the UWI Open Campus on Monday, August 21.
He added that the credit risk is also taken into consideration, and disclosed that according to Moody's, a bond rating corporation, the government of SVG credit risk is assigned at B3. This rating, according to Moody's is "considered speculative and subject to high credit risk."
He noted that the cap on the percentage of the NIS portfolio that can be invested in central government is set at 20 per cent, emphasizing that the current holdings of 11 per cent are well within range.
Haynes asserted that the NIS's overall investment portfolio is "widely spread" and well-diversified and the return on investment – 4.7 per cent, is above the recommended 4.5 per cent.
"We invest the fund locally, regionally and internationally – in bonds, loans, equity. The portfolio remains well diversified across different asset classes, different locations, different maturities and among different issuers."
Out of the Report, it is noted that while the current projections forecast that the national insurance fund can be depleted around 2034, there are "several risks that could result in Fund depletion even sooner than projected, as well as NIS not providing adequate benefits to SVG residents," one of which includes government not being able to repay bonds and loans on time.
If repayment uncertainty is high, the report suggests that the NIS "seek buyers even if sale will be at a loss" to mitigate this risk.
An assessment of the NIS investment portfolio was done based on four criteria – the mix of assets, maturity of investments, investments by location and issuer. In the report, the analysis of the portfolio based on issuer noted: "Exposure to the goSVG [government of SVG] and other governments decreased over the three year period and remain relatively low by regional levels. If Bank of SVG, National Lotteries Ltd. National Properties Ltd and National Student Loan Company are considered public sector, exposure to the SVG public sector would be 50%. This is considered high."