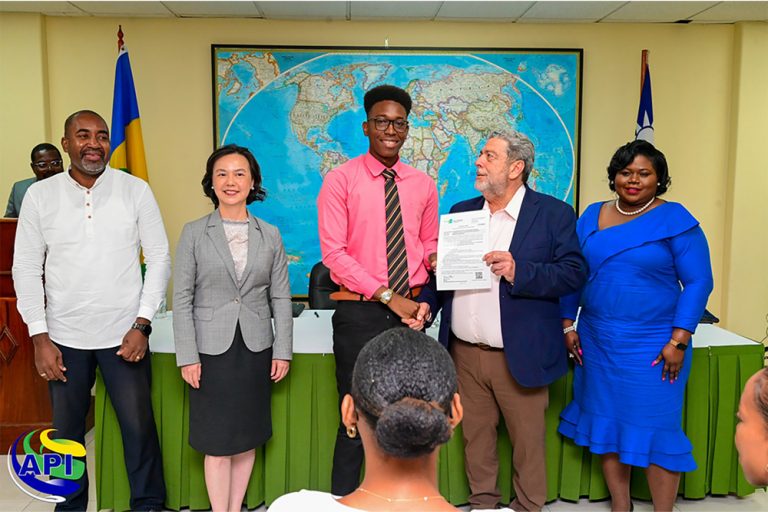 Front Page
August 15, 2023
33 off to complete University studies in Taiwan
Thirty-three Vincentian students will return to their homeland in three to four years' time, fluent in Mandarin and equipped with advanced academic qualifications across a range of disciplines.
On Friday, August 11, the group attended a ceremony at the Ministry of Foreign Affairs conference room to receive their official awards as 2023 Taiwan ICDF and MOFA scholarship recipients with each scholarship valued at around EC$200,000.
Speaking at her first official event, the newly appointed Ambassador of Republic of China on Taiwan to St Vincent and the Grenadines (SVG), Fiona Fan urged the scholarship recipients upon completion of their programme, to work in advancing the country's development.
Durrant seeks to tackle social issues in Journalism
SEARCHLIGHT reporter, Kemarlie Durrant, will be heading to the Ming-Chuan University to pursue a Bachelor's degree in Journalism and Mass Communication.
He said while he initially wanted to pursue a career in Law, working as a reporter has given him a passion for educating and informing the public on pressing social issues.
"My initial view of my role in journalism as merely a scribe has been transformed over the last few months .. my training will allow me to ensure that news is covered with strict adherence to accuracy, fairness and other journalism standards."
The 20-year-old said while leaving the comfort of home where friends and family are close, to travel halfway around the world is daunting but he considers it a necessary sacrifice to advance his academic goals.
Durrant said he intends to share as much of his Vincy culture with those at the University and learn as much as he can about Taiwanese culture.
Hutchinson hopes to join climate change fight
One of the students pursuing a Masters program, Vanile Hutchinson, has set her sights on joining the National Emergency Management Organization (NEMO).
The 33-year-old who has already completed undergraduate studies in Geography and Environmental and Natural Resource Management at the University of the West Indies, St Augustine campus will tackle the International Masters Programme in Natural Hazards Mitigation and Management at the National Cheng Kung University.
"I see my choice of degree as being an asset to SVG and the Caribbean region as we are susceptible to natural disasters and climate change," Hutchinson told SEARCHLIGHT in an interview.
Hutchinson admitted to being somewhat nervous about the language barrier but she intends to immerse herself fully in the Taiwanese culture and language.
"My plan is to embrace the culture and learn as much as I can … as for homesickness, keeping in touch regularly with my family would help greatly."
Gellizeau aims to expand airline reach
Also included in the programmes being undertaken by the cohort is flight technology. Deaney Gellizeau will be pursuing a degree in Aerospace Engineering at the National Dong Hwa University.
The 21-year-old Union Island resident told SEARCHLIGHT, "I see myself as someone that is probably going to be an inventor or high in the management system as it relates to airline transportation systems or maybe the aerospace industry here in the Caribbean.
"We [SVG] have a lot of potential in this industry considering our geography and the need for us to expand our airline reach in regards to connecting the Grenadine islands and making it more accessible to tourists."
The lover of STEM and former Science teacher at the Emmanuel High School said he wanted to pursue a "unique" field of study and he looks forward to learning a new language to add to the other two languages he is already fluent in.