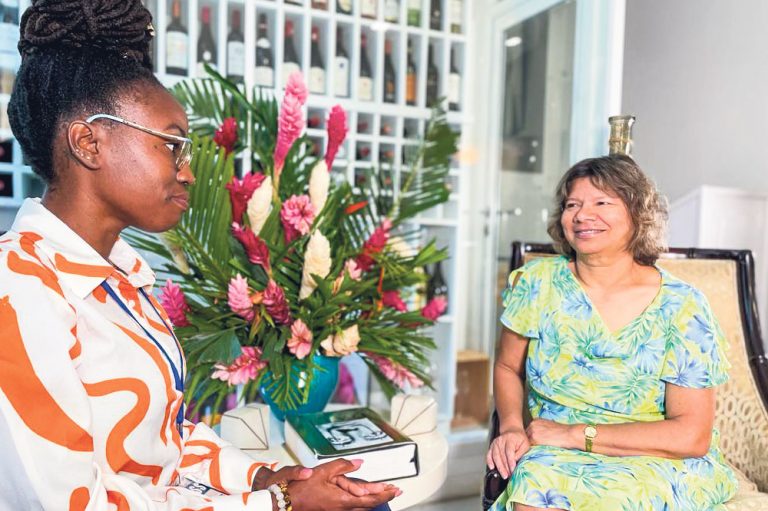 Front Page
August 11, 2023
Canada's doors remain open to Vincentian immigrants – Official
by Christina Smith
Canada intends to keep its doors open to Vincentians, whether it is for those legitimately seeking asylum or those interested in migrating to boost the country's workforce.
The North American country in 2022 welcomed over 430,000 permanent residents, according to data from the government, and High Commissioner to Barbados and the Eastern Caribbean States, Lilian Chatterjee said she believed that St Vincent and the Grenadines can contribute to the economic immigration targets.
Canada has set a target of welcoming 447,055 permanent residents in 2023 and 451,000 in 2024.
"Canada has quite an open policy towards immigration. We recognise we are a large country with a population of 40 million and we need more people. We have an ageing population and we welcome more immigrants to Canada," the High Commissioner said, during an exclusive interview with SEARCHLIGHT yesterday.
She explained the economic-immigration targets were not just for the "elite" but for jobs across the board.
"We have shortages everywhere, absolutely everywhere, some people think we're only looking for the elite of each country. But we have shortages … [for] even truck drivers and people in the trades …"
The movement of Vincentians into Canada, not as economic immigrants but as asylum seekers was also touched on in the interview. Back in 2012, travel restrictions were imposed for Vincentians with immigration authorities citing "an unacceptably high number of asylum claims from St Lucia and St Vincent". The travel restrictions saw visa-free travel being stripped from Vincentians.
High Commissioner Chatterjee said while she cannot speak directly to the high rates of rejection for asylum claims from Vincentians based on data presented in the interview, she believes those who file claims legitimately will be considered.
"I believe they [Vincentians] can. I can't speak to any of those cases because I'm not familiar with them … for these decisions to be made, they're made by independent adjudicators and they look for a well justified case as to in order to determine whether it's a legitimate refugee situation or not. I would like to believe that any legitimate case is treated favourably by Canada."
The High Commissioner said she considers it a step in the right direction that Vincentians, as of June this year, have been granted a partial visa lift with the implementation of the electronic Travel Authorization (eTA). The eTA allows Vincentians who have held a Canadian visa within the last 10 years, or currently hold a US visa to undergo an expedited screening process for entry into the country by air.
"It is an issue that Prime Minister [Ralph] Gonsalves has raised with me every time whether I meet him in person or whether I speak to him on the phone. He has raised it with every Canadian politician. And I admire his advocacy on this issue, and we have listened to him."
She said it is not certain whether Canadian Immigration will revert to the original policy any time soon.
"The Prime Minister says this is a good start, but it's not good enough in his view, and he's speaking for his citizens and I respect that. I'm just glad that we've at least come this far and we'll see if government will, review and consider further. I don't know the answer to that yet."