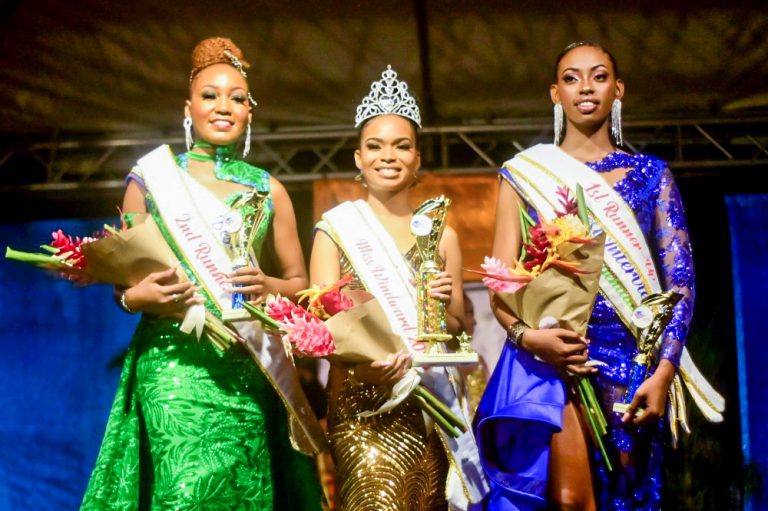 Former Miss Garifuna Princess is Miss Windward Queen
Lover of pageantry, Veronique Thomas, claims 2023 Miss Windward title.
A former Miss Garifuna Princess and an aspiring Miss SVG, 19-year-old Veronique Ki-Monique Thomas fell in love with pageants at an early age and has set the goal of entering, and winning, as many as possible.
The St Vincent and Grenadines Community College student went up against four ladies on Friday, July 14 wearing the Miss Sandy Bay title and sponsored by House of Ellis. When the curtains closed, she claimed the Miss Windward Queen crown as well as the People's Choice award, Best in Swimwear and Best in Evening Wear.
In an interview with SEARCHLIGHT, Thomas said her entry into the pageant, bolstered with her previous pageant experience while she attended the Sandy Bay Government School, forced her to focus on goal setting, communication and time management.
"Preparation on a whole was tough but as time progressed, it became easier with the support from my family and friends."
The preparation process had a major hiccup when Tropical Storm Bret made its passage across the Eastern Caribbean, lashing the northeastern coast of mainland St Vincent resulting in the postponement of the pageant which was originally scheduled for June, 23.
Initially viewed as a disappointment for Thomas she, however, used the three weeks of extra time to her advantage.
"… I realized I can do so much within that time frame given to us, so I utilized my time. All in all, I would say the change of date better prepared me for show-night."
In the spirit of carnival, the show kicked off with contestants decked out in costumes from Tribes Mas Band for the introduction segment, followed by the swimwear and the talent segments. Although Thomas did not capture the Best Talent award, she put down a solid performance with a dramatic piece that highlighted the treatment of women in modern and old-time Soca.
"In the past, the artistes were more clever, but today, they are blatantly disrespecting women," Thomas explained.
Thomas dominated in two of the five judged categories, admitting that she gave her all throughout the night to ensure she scored highly overall.
"Though I had confidence in myself, I wouldn't say there was ever a time on show night I was super confident the crown was mine. I went out there and gave my all in each category because I know the importance of consistency in pageants."
Thomas stressed the importance of rural pageants in helping to prepare ladies for bigger pageants.
"… Rural pageants help to mould you for the national stage. It helps to boost your confidence, be more community involved, more outspoken … rural pageants for me are stepping stones. I don't have a time frame as yet for entering the Miss SVG pageant. The goal right now is to represent the committee and of course, the Windward area at Miss Rural SVG at the end of July."
First and second runner-up positions went to Beyoncé Quashie, Miss Georgetown and Janeisha Cupid, Miss Sans Souci respectively. Best Talent was awarded to Janeisha Cupid, Miss Sans Souci; while Best Interview went to Beyoncé Quashie, Miss Georgetown.