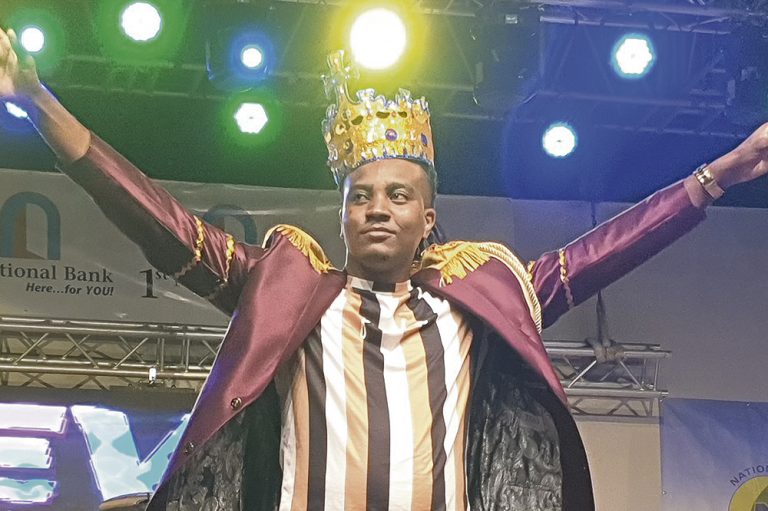 Ragga Soca win feels amazing for newcomer
Persons may want to diminish Javid "Jay R The Entertainer" Rouse's win in the 2023 National Ragga Soca competition by saying that a lot of the seasoned artistes stayed out of the ring.
But Rouse is asking persons to note that the Friday, July 7, competition had big names competing against him with the likes of former monarch Hance John, being forced into second place with "Bruk Out", and defending monarch Delroy "Fireman" Hooper into third with "Sapodilla Woman".
Jay R The Entertainer's song "Love of Carnival" even managed to beat veterans Shaunelle McKenzie and Denis Bowman.
"It feels amazing, absolutely amazing … I was superior to the existing Ragga Soca Monarch who was defending so it feels really amazing," Rouse said after being crowned at Carnival City Victoria Park in the wee hours of Saturday, July 8.
"The cast was really talented…," he stressed, while noting that understanding what the criteria is and delivering is important.
The newcomer said he tried going after the crown in 2022 but didn't even get to the semi-finals so he decided not to dwell on that failure but to put in work.
"… And the work paid off," he said, while noting that the inspiration for "Love of Carnival" comes from a song called "Shots" which he plans to release next year.
The Mahoe, Campden Park resident while speaking of his success this year noted that after last year's song, "Jam at first site", failed, producer Cassique "Super K" Ollivierre reached out to him and said he was interested in his career.
"After last year's song had little or no impact he said he wanted to help me plan properly for this year to bring something new," Rouse said while noting that he will be pushing ahead with music as it is a hobby he wants to monetize and make into a legitimate business.
He currently works with Digicel as a business solution executive, but is also known for performances at the Arnos Vale Gate 3 restaurant and recently represented Saint Vincent and the Grenadines (SVG) at an international talent show case in Jamaica.
He said he penned the winning song which was produced by Ollivierre and co-produced by "Da Pixel" of Island Shak Entertainment. His performance on competition night was given guidance by his cousin Deron "Magikal" Rouse and others.
The artiste, who has been singing from 12-years-old is now 26, and said that despite his big song, it was only the Carnival Development Corporation (CDC) which recognised the potential of the song and booked him for Junior Panorama.
He said the promoters for Vincy Mas 2023 did not acknowledge his song, but instead chose to book the big name artistes.
Rouse also took part in this year's Soca Monarch competition with "Wild" but did not place.
The other performers in last Friday's competition were, Omarion 'Marlo Benn' Benn – Jam Again; Ozarie Matthews – Pastor Choking the Bishop; Nasir 'Nasos' Primus – Dirty Mas; Ramon 'Jose Juan' Diaz – Until ah wet; Jasper 'Jasper YMC' Alexander – Festival; Denis Bowman – Tink butt easy; Gregory 'Pekos' Cato – Poor Keyboard; Shaunelle McKenzie – Doh Study Meh; McGaffrey 'Loombay' Medford, Jesse Fligh' Haynes & Brendon 'Ma Saunders – Wasted; and Rayvonne 'Reva' Rodney – Zess No Stress.