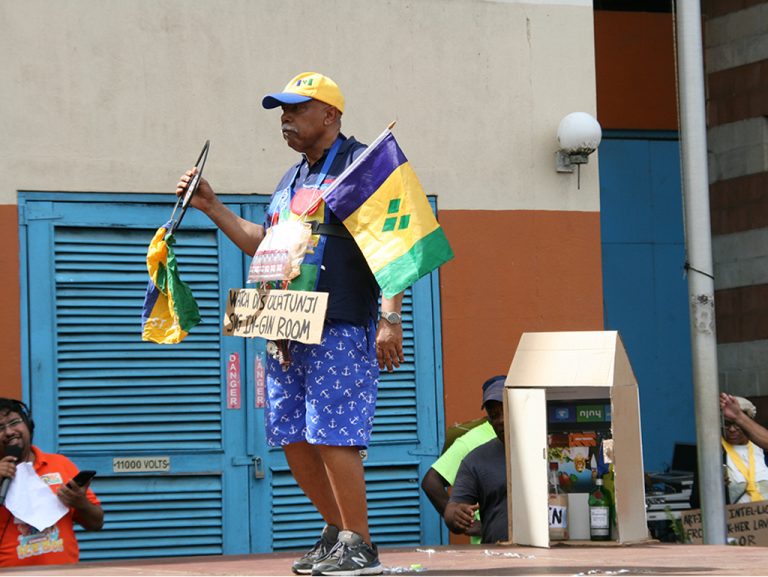 J'Ouvert Fanatics makes clean sweep
J'Ouvert Fanatics took a clean sweep of the King and Queen of J'Ouvert, claiming the top three positions in both categories.
On Monday, July 11, five groups competed for the titles that were up for grabs in the Traditional J'Ouvert competition held at the Central Vegetable Market in Kingstown.
Perennial winners J'Ouvert Fanatics dominated the rain-affected competition by taking 11 titles in the competition.
The King of J'Ouvert crown was taken home by former Minister of Tourism, Sports and Culture Cecil Mckie who conquered all with a presentation entitled 'SVG-In-Gin-Room.'
The group also placed second in the King of J'Ouvert category with their presentation entitled 'Horn', and third with 'Sober Reflection.'
J'Ouvert Fanatics' Maferne Mayers-Oliver won the Queen of J'Ouvert competition with her presentation entitled Artificial Intelligence.
Mayers-Oliver, a lawyer by profession, has made known her interest in contesting the East St George seat on a New Democratic Party (NDP) ticket in the next general elections. Her declared interest has created a stir in some quarters as former banker Laverne Velox, the NDP's present caretaker in that constituency has not indicated that she will not run again. She is widely viewed as one to watch in the 2025 polls given her admirable performance in the 2020 general elections against present representative Camillo Gonsalves of the ruling Unity Labour Party,
On J'Ouvert morning, Mayers-Oliver took the stage dressed in a lawyer's garb carrying a sign which read: 'ART-I-FICIAL INTEL-LIGENCE(AI) FROM BANK-HER LAV-FERNE OR LAW-YER MA-FERN.'
In the same category, J'Ouvert Fanatics also captured second and third place with their portrayals 'Village to Raise a Child' and 'Key-shell Bleach or Beach' respectively.
However, "The Health People" triumphed over the group in the Individuals of J'Ouvert Category by copping first place with its presentation 'Da Virus.' Second place and third place were awarded to J'Ouvert Fanatics with their presentations 'Dr Thump-son' and 'CDC lose a screw.'
In the Couples category, J'Ouvert Fanatics were also victorious with their portrayal of "High Maintenance Woman". Fitz Hughes placed second with their presentation 'Two Old Thump' and J'Ouvert Fanatics took the third place with 'Is war – U-Crane vs. Bloody Mere.'
The Best Group presentation was won by the US-based group SVG Connect with 'Dingo-Lay,' second place was awarded to the Health People with their presentation, 'Da Chook' and Fitz Hughes placed third with their presentation 'Cucumber in the Salad.'
J'Ouvert Fanatics was the winner of the Traditional Bands segment with their band 'Hill-Lay-Rious.' The Health People took the second spot with their band, 'De Virus' and Fitz Hughes' 'Carnival Flavors' was third.