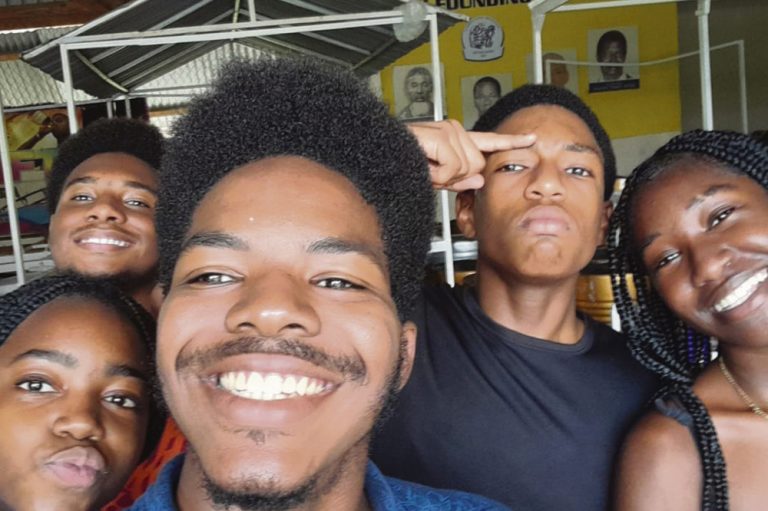 Youngest arranger in 2023 Junior Panorama leads Starlift to gold
Mitchell Israel-Duharte has a musical ear that can recognize any off-notes, even in an orchestra of 30-plus players. The perfectionist who sets his sights only on being the best in everything, started his career in pan nine years ago and has risen up the ranks to become one of the leading members in the Starlift Steel Orchestra.
For this year's Junior Panorama, the 19-year-old Cuban born student decided to deviate from the norm, using a contemporary Soca song which earned them the gold and also etched Duharte's name in the country's history books as being the youngest arranger in the 2023 competition.
In a post-win interview with SEARCHLIGHT, Duharte said he initially got some pushback on his decision to use 'All I Need' by Hance John, as Starlift's selection for the July, 2, competition at Victoria Park, but he stood his ground.
"I was kinda getting tired of bands playing old songs … why are we going to use old songs? We end up with bands reusing songs. I don't know if they were aware of any new songs that have potential, so I was digging deep. It was not an easy task. A lot of people questioned it [but] I said I was sure."
With the selection process completed, it was on to the arranging for Duharte, who is experienced with writing and composing as he topped his CXC Music class with a Grade Two back in high school. Although it was not his first time arranging for Starlift Juniors, it was his first for a national showcase.
"I do the backline first, the front line part comes after. I sorta work backwards because I am more familiar with the backline pans. It was only recently, like 2020, that I became a full time double second player. Once I have the verse and chorus done I sent it to other players in the junior band to get their feedback."
In mid-February, the Starlift junior members launched into full rehearsal mode, but Duharte would soon realize the winning road is often riddled with logistical potholes.
The first of the challenges came with Duharte not having an assistant to read the music to the frontline section and further to that, turnout numbers for rehearsals were dwindling with the competition date approaching.
"We had a lot of issues with regards to the frontline players, especially seeing that the majority of the persons who play the front line section are new, and this is their first time playing a Panorama. I knew my backline was on point because they are more experienced, but later down we started to have an issue with the bass section."
Duharte said, with the pressure mounting, he had to seek out the guidance of senior members in the group on solutions to these challenges.
"Even up to the day before I was not too sure that they were going to pull it off. They were not sounding the way I wanted it to. But there wasn't much I could do. I said whatever happens, happens."
On Sunday night, the logistical hiccups continued when the set-up of the group's props threatened to collapse, but with some reinforcements it held in place during the high-energy, seven-minute performance of the 2022 Junior Pan champs.
"Some parts didn't get executed the way I wanted it to, but it sounded better than the day before [rehearsal]."
Duharte admitted his anxiety levels were high during the announcement of the results, and it was only after the band's main competition rivals, Sion Hill Euphonium Steel Orchestra, was called in second place that the teen was able to breathe easy.
"I was comfortable with the way we performed, yes some things could have been done better. I was thinking we have a 85 percent chance of winning. When the results were called I was zoned out. When I heard Sion Hill came second I started to feel relieved."
Duharte has come a long way from the youngster who saw steel pan as an escape from school, and he says he intends to keep music as a permanent part of his professional and personal life, including it in the mix of programmes he will be tackling when he goes off to University in August.