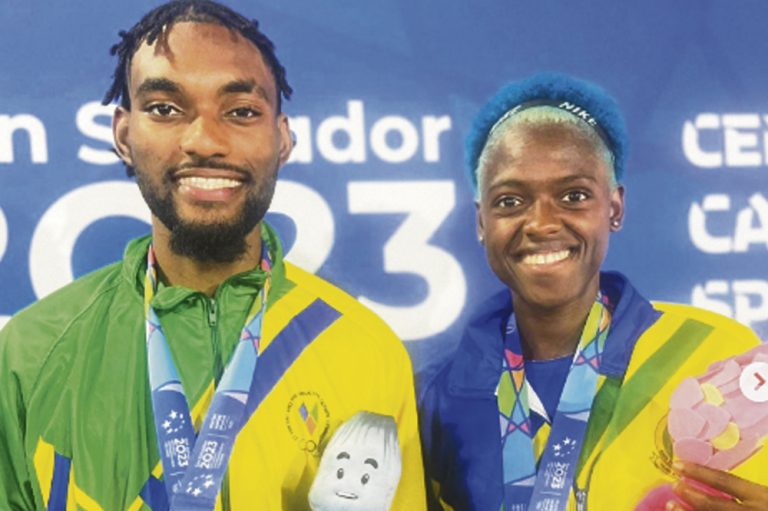 SVG wins gold in 800m at CAC Games
Handal Roban continues to lower his own record, and the St Vincent and the Grenadines national 800 metres record.
His latest triumph came last Wednesday night, July 5, at the Central American and Caribbean (CAC) Games in El Salvador.
His 1:45.93 in the two-lap event at the Jorge Gonzales Stadium, beat his 1:45.95 clocking at the NCAA final on June 9, at the Mike .A . Meyers Stadium in Austin, Texas, USA.
Last Wednesday's time had initially placed Roban second to Venezuela's Jose Maita. However, Maita was later disqualified.
The revised placings resulted in Ryan Sanchez of Puerto Rico docking in second with a 1:46.86 clocking; third was Ferdy Agramonte of the Dominican Republic in 1:47.46.
Minutes after Roban's feat, St Vincent and the Grenadines was again on the podium, as Shaffiqua Maloney docked in third in the women's 800 metres.
Maloney's time was 2:04.98. Ahead of her were Rose Almanza, who won in 2:01.75,  and second place was Sahily Diago in 2:02.81. Almanza and Diago are both Cubans.
Roban's CAC gold medal adds to his Carifta gold and bronze; Caribbean Games' bronze; NACAC Open silver; as well as NACAC Under-20 gold and silver; and NACAC Under-18 bronze.
In addition, he has the record of running the fastest split time in the 800 metres at the famed Penn Relays.
Roban achieved this last year as part of the Jamaica College quartet.