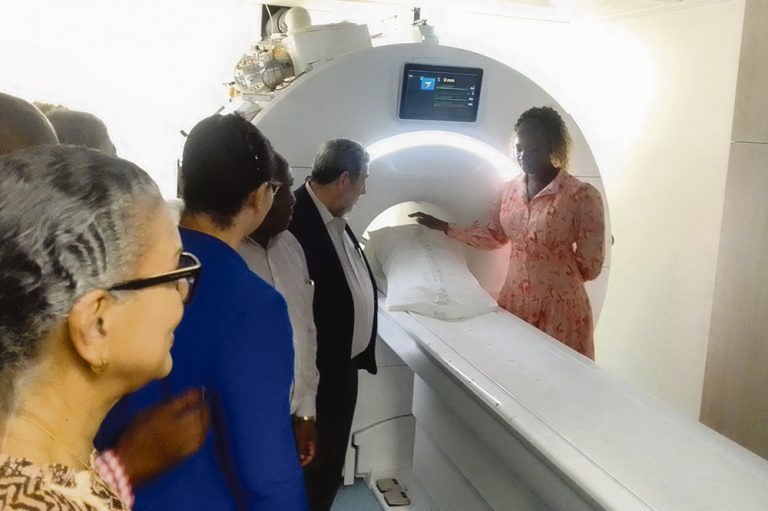 Government commissions MRI machine at official ceremony
The government of St Vincent and the Grenadines has so far invested over $120 million in health infrastructure in Chili Village, Georgetown.
This figure includes the cost for the Magnetic Resonance Imagine (MRI) machine which was commissioned on Thursday June 29.
The figure was revealed by Prime Minister, Dr Ralph Gonsalves, as he spoke at the official commissioning ceremony at the Modern Medical and Diagnostic Centre in Georgetown.
Thursday's launch of this country's first MRI machine was held simultaneously with a ceremony to mark the 5th anniversary of the Modern Medical and Diagnostic Centre.
Gonsalves, who is also the Member of Parliament for the area said "At this site here in Georgetown, we have in excess … of $120 million worth of health infrastructure."
He pointed out that the estimated figure given does not include the real estate value of the Modern Medical and Diagnostic Centre, the Smart Hospital and the Smart Health Centre, which are all on the same compound in Georgetown.
At present, staff members are receiving specialized training relating to the use of the MRI.
The Prime Minister promised that the machine, which costs over $10 million, should become operational by the end of July, 2023.
The MRI was made available to St Vincent and the Grenadines with the assistance of the Barbados based Maria Holder Trust.
Minister of Health, St Clair Prince was also one of the speakers at Thursday's ceremony.
In the past, Vincentians needing MRI services have had to travel abroad to gain access to this important method of diagnosis.
Prince stated that over the years, there was a persistent clamour for MRI services to be made available locally.
The minister expressed confidence that the MRI, which is now in Georgetown will make a difference in the lives of all Vincentians.
The MRI scan is a diagnostic tool which is used to identify conditions that affect soft tissues in the body.
It plays an important part in the diagnosis of tumours, including those which are cancerous. It also diagnoses soft tissue injuries and joint injury or disease.