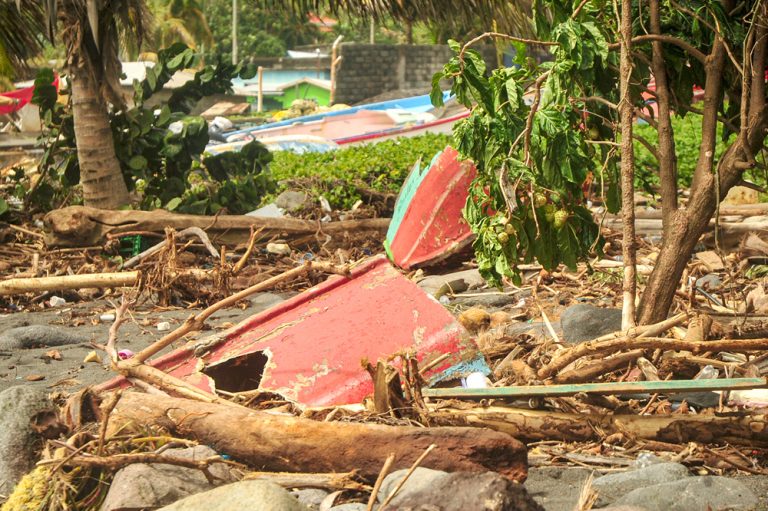 North East coast lashed by Tropical Storm Bret
TROPICAL STORM Bret made landfall on the evening of Thursday, June 22 and has left in its trail damaged houses, dislocated residents and power outages. Those on the North-Windward coast of the mainland were hit the hardest according to assessments done by the National Emergency Management Organisation (NEMO).
In a post-storm interview with the Agency for Public Information, Director of NEMO Michelle Forbes, said Tropical Storm Bret was previously forecast on a north-west track across the islands but latitude changes placed the weather system on a more westerly path.
Forbes said that Owia is one the communities which was most severely impacted by the storm, with storm surges lashing structures and sending residents running for safety.
"By yesterday evening [Thursday] we were getting information that the storm surge was 15 feet, the rainfall will be up to 10 inches. Initially we had three to six inches, there was a possibility of 10 inches in the mountainous area and that forecast held."
In Colonaire, Gorse as well as Sandy Bay, coastal hazards posed a threat to residents. Forbes said that out of the 36 shelters which were activated, 10 were used and housed 150 evacuated persons, mainly from coastal communities.
Preliminary assessments conducted after the all-clear was issued around 11:00 a.m on June 23, showed that eight houses had been washed out in Owia, two were structurally compromised, and a total of 22 homes suffered wind damage.
The storm also wrecked two fishing boats belonging to fishers in Owia. Tree hazards also created challenges for the Roads Buildings and General Services Authority (BRAGSA) with trees being downed in Kingstown, Campden Park, and areas on the leeward side.
Minister of National Mobilization, Housing and Informal Settlements, Orande Brewster, said residents whose homes were destroyed by the storm will be placed in temporary housing, at the expense of the government, until arrangements are made for their relocation.
A proposal is expected to be taken to Cabinet this week for the possible allocation of land and construction of houses for the affected families. Brewster said the housing aspect of the storm recovery will be "significant" for the government.
Assessments also continued over the weekend right up to Monday, June 26 and NEMO said they expect to have a final damage assessment report by the end of the week.
Other communities also heavily impacted include Spring village, Rose Bank, Rose Hall, Chateaubelair and Fitz Hughes on the Leeward side, and on the Windward side of the mainland Colonaire, Chester Cottage, Park Hill and Georgetown.
Tropical Storm Bret also caused issues with the electricity supply and up to Friday morning, the St Vincent Electricity Services Limited (VINLEC) had reported that up to 50 per cent of customers had been without power. Restorative work was initiated following the all-clear with lines supplying electricity to large communities between Rabacca and Fancy being restored on Friday. Some smaller communities in Kingstown still remained without electricity up to Saturday. VINLEC has reported that as of Monday, June 26, all communities across the islands were fully restored.