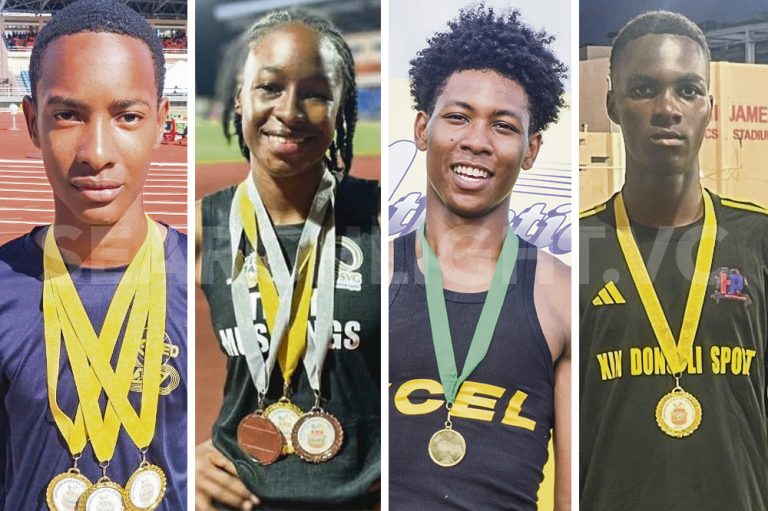 Vincentian athletes pouch 46 medals from Whitsuntide Games
Vincentian clubs accounted for 46 medals in last weekend's Whitsuntide Games held at the Kirani James Athletics Stadium in Grenada.
Among the lot were 10 golds, 16 silvers and 20 bronze medals, all gained on the two days of the
Games, Saturday, May 27 and Sunday, May 28.
Topping the list of medallists were Verrol Sam of X- Cel Track Club and J'Avair Cato of X- Ceed Sports Club.
Sam won the Long Jump, with a leap of 7.05 metres, and cleared the High Jump bar at 2.00 metres; while in the Triple Jump, he reached a distance of 13.96 metres. Sam competed in the Open/International Men's category.
Similarly, Cato, competing in the Male Under-17 division, collected his gold medals in the same events as Sam.
Cato though, set a new Games record in the High Jump, at 1.91 metres. He also leapt to 6.49 metres in the Long Jump and hopped, skipped and jumped 13.30 metres in the Triple Jump event.
Other gold medallists were Teia Laborde of Troumaca Mustangs, who won the Women's Open/International 200 metres; Henreek K Francois of ROSES Academy, who won the Under-17  Male 3000 metres; Kyle Lawrence of Chatoyer, the Under-20 Male 100 metres; and High Performance's Zichri Hepburn, who crossed the finish line first in the Male Open/International 1500 metres.
The medals distribution saw High Performance collecting 1 gold, 3 silver and 11 bronze; X- Ceed Sports Club- 3 gold, 3 silver and 3 bronze; and X- Cel Track Club earning 3 gold medals.
Also competing was  the IT- DAT Academy, who earned 3 silver and 2 bronze; ROSES Academy- 1 gold, 1 silver and 1 bronze. Troumaca Mustangs got 1 gold, 4 silver and 2 bronze; Chatoyer, 1 gold and 1 silver; and the St Vincent Grammar School Track Club, 1 silver and 1 bronze.
At the 2022 hosting of the Whitsuntide Game, St Vincent and the Grenadines athletes, all told, captured 12 gold medals, 15 silver medals and 11 bronze.
Last year's edition did not have the participation of IT DAT Academy, Chatoyer and ROSES Academy.
This year saw more than 200 Vincentian athletes participating in one way or the other in the Games, making it the largest contingent ever from this country to attend.
The Whitsuntide Games date back to the 1950s.