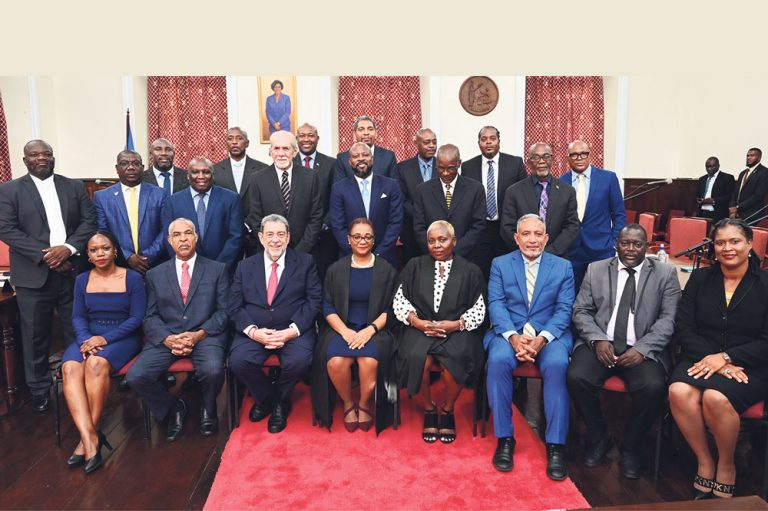 No more sitting in 200-year-old House
A special sitting of the House of Assembly was held on Thursday to mark the last time Parliament will sit at the over 200-year-old building in Kingstown.
Prime Minister Dr Ralph Gonsalves in his address said he considered it a "good day", because although some persons look at politicians "as some species to be demeaned", the record will show that in St Vincent and the Grenadines, the immense progress that has taken place in this country "is no small part due to the generations of leaders who have been here since 1951, and I thank them all for their service."
He gave an historic overview of the Parliament building and "what happened in the building", referring to a May 15, 1798 resolution that was tabled in the Legislative Council to erect the Parliament building to accommodate a courthouse on the ground floor and a legislative council on the upper storey.
The Prime Minister mentioned by name, the legislators who had served the country, over the years, beginning with the 8th Army of Liberation of George Charles which won the elections in 1951, the first under Adult Suffrage.
The longest serving elected parliamentarian was James Mitchell who served for 34 years (two stints). Gonsalves, with his 29 years in Parliament has had the longest unbroken service, followed by Ebenezer Joshua who sat in Parliament for 28 years. Levi Latham served 27 years, followed by Vincent Beache with 26 years (two stints), Milton Cato, 23 years; followed by Ivy Joshua, Arnhim Eustace, Montgomery Daniel, Godwin Friday and Terrance Ollivierre who have all served 22 years so far.
Leader of the Opposition Dr Godwin Friday, in his remarks agreed with the Prime Minister that it was a good day. He said the Parliament building had "seen the progress of our country and has seen our emergence as a modern state taking its place in the world, seeking to perfect our democracy."
He said it was humbling that over the long course of history, we have seen the rise of persons who have become part of the folklore of the country, who played their part, then moved on or faded away."
Friday said it was humbling because for all of us, it comes to an end.
"Whether 22 years, five years or three years. We have to be mindful of that to ensure that the time we spend in this chamber is not just an accumulation of years, but rather it is put to effective use in providing a better life for our people, in expanding and protecting our democratic rights and values and ensuring that all who come after us who one day may look at our pictures on the walls can point to them with pride and say that this person has done some good for his or her country."
The other Members of Parliament (MPs) who addressed the House were the MP for Central Kingstown St Clair Leacock, MP for West Kingstown Daniel Cummings, Senator Julian Francis, Deputy PM and MP for North Windward Montgomery Daniel.
Speaker of the House Rochelle Forde, said she was honoured to preside over the historic sitting.
"The atmosphere is alive with emotions- of nostalgia, of pride, of the ending of an era and a renewed hope for the future of our beloved St Vincent and the Grenadines."
She announced the retirement later this year of Clerk of the House Nicole Herbert, who had served in that position for the last 25 years.
Forde thanked members of the recently appointed Parliamentary Publication Committee for taking on the "herculean task" of documenting the multifaceted history of the Parliament of SVG. They are Adrian Fraser, Rene Baptiste, Cecil 'Blazer' Williams, Joseph "Burns" Bonadie, Clare Keizer, Michele King-Campbell, the Clerk of the House and Speaker of the House.
The Speaker also named the officers who presided over the Legislature from 1951 to present – W.F. Coop, N.S. Nanton, Emmanuel Fatima Adams, Othneil R. Sylvester, Edward A. C. Hughes, Charles St Clair Dacon, Joseph Lambert Eustace, Arthur T Woods, Dennie Wilson, Olin J B Dennie, L A Douglas Williams, Montgomery Maule, Nolwyn McDowall, Hendrick Alexander, Jomo Thomas, Carlos James and current speaker Rochelle Forde.
Of these, the longest serving was Hendrick Alexander, who served for 14 years, 8 months. Former Clerk of the House Theresa Adams ,was also recognized.
Yesterday's historic event was well attended by current and former parliamentarians and official photographs were taken of both groups.
The next sitting of Parliament will be held towards the end of June and will take place at a temporary Parliament building that has been constructed at Calliaqua. A permanent home for the House of Assembly is to be built at Richmond Hill, Prime Minister Dr Ralph Gonsalves has said.