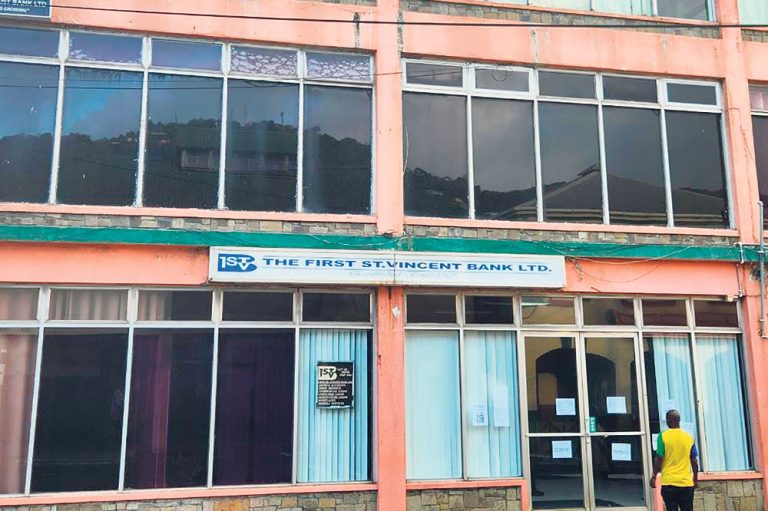 It's the end of the line for First St Vincent Bank
by Jada Chambers
The Eastern Caribbean Central Bank (ECCB) says it acted in the public interest when it shut down First St Vincent Bank (FSVB) last Friday, May 26.
"In our deliberate judgment, the FSVB was failing, and there was no prospect, immediate or near term, of a turnaround in the situation. As a consequence, the ECCB acted in the public interest, particularly in respect of the depositors and creditors to ensure the preservation of financial stability. That means that First St Vincent Bank is now closed, and in due course, the banking license will be revoked," Timothy Antoine, Governor of the ECCB said at a press conference on Tuesday at Frenches House.
The ECCB, which is the regulator of banking business in the Eastern Caribbean Currency Union (ECCU), said FSVB, which had been operating in St Vincent since 1909 failed to "turn their situation around" despite being granted extended time to do so.
The ECCB had been monitoring the operations of FSVB closely for the past eight years, including daily ongoing off-site surveillance; on-site examination in 2018, Anti-Money Laundering/Combating the Financing of Terrorism (AML/CFT) examination in 2019, and most recently, on-site examination over the period May 15 – 26, 2023.
A release issued by the ECCB said there had been significant and sustained breaches of the Banking Act (2015), especially in respect of capital requirements; high credit risk and low earnings performance; poor accounting and corporate governance practices; and ineffective risk management systems. As a result, On Friday, May 26 the ECCB under the powers enshrined in Section 138 of the Banking Act No 4 of 2015 of the laws of Saint Vincent and the Grenadines, placed FSVB into receivership.
Antonie said customers of FSVB may now resume their banking services through the Bank of St. Vincent and Grenadines (BoSVG), which has accepted the ECCB's invitation to acquire certain assets and liabilities of FSVB.
"Now I want to be very clear. When we make a decision in respect of a resolution, we have to decide on which institution can acquire certain assets and liabilities, and in our deliberate judgment, BoSVG was able to demonstrate to us that it had the financial strength and capacity to undertake this assignment, and so we invited BoSVG to do that."
He said the FSVB is an indigenous bank and has been instituted in SVG since 1909 making it the oldest bank in SVG, and therefore would make the decision process "passing strange", if the ECCB did not consider its indigenous options as acquirers of the institution.
"When you consider your options, you have to look to see financial strength, you have to look to see capacity. One of the very important things for us is the fact that the IT (Information Technology) system used by BoSVG is very similar to …the core banking system… used by FSVB."
Antoine said this is important because it reduces the transition time to move the assets and liabilities from FSVB to BoSVG, meaning that the customers will get faster access to their funds which is a big motivation for how the transaction has been structured.
The ECCB has appointed David Collins of Interpath East Caribbean Ltd (trading as Interpath Advisory), as Receiver to assume control of, and secure the assets of FSVB for an initial period of six months. The Receiver will liquidate the institution via the sale of viable assets and wind up its affairs in an orderly manner to minimise risk to financial stability.
Deposits of $100,000 or less at FSVB will be transferred to BoSVG, and depositers will gain full access to their funds from Thursday, June 1. This constitutes over 90 per cent of all depositors in FVSB, the governor said.
"And that is good news for those depositors because not only are they moving…their account to a strong institution, but they will…soon have access to their funds.
However, for accounts valued over $100,000, the sum of $100,000 will be transferred to BoSVG, and the balance that exceeds $100,000 will remain in the Receivership.
The ECCB in their release reiterated that the banking sector in SVG remains stable.
"The other four licensed financial institutions, which operate in the country, are continuing to do business as normal. The issues which warranted the closure of FSVB were very specific to the institution…. The ECCB gives the assurance that it will continue to exercise its powers to maintain financial stability and safeguard the soundness of the ECCU banking system."