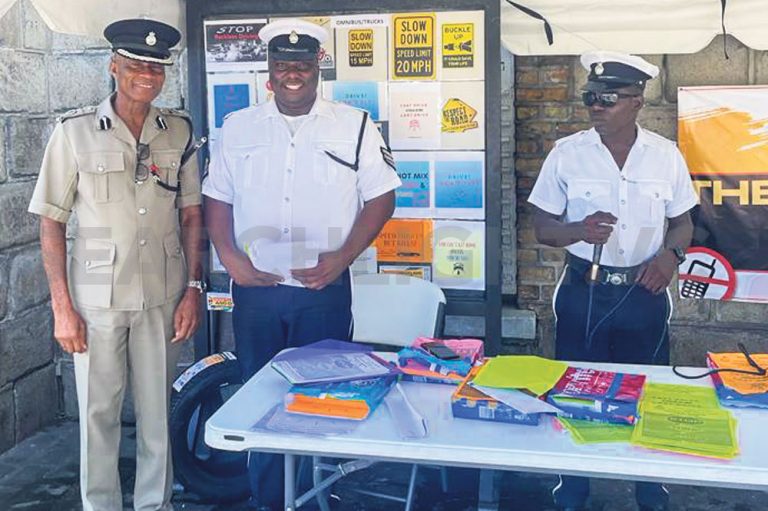 Alcohol use leading to increase in weekend accidents, says head of traffic department
The Traffic Department of the Royal St Vincent and the Grenadines Police Force (RSVGPF) is hoping that the efforts mounted during Road Safety Awareness Week,which concludes today, will lead to a reduction in motor vehicle accidents, some of which are linked to the consumption of alcohol.
In an interview with SEARCHLIGHT, Head of the traffic department, Assistant Superintendent of Police Parnel Browne, said on some days the department can see up to eight accidents being reported, which puts tremendous pressure not only on the small staff charged with manning the department but also emergency responders and the health sector.
He said that number is "too high" especially on weekends when the public is engaging in social activities.
"Daily accidents that are reported borders around four or five per day … that is for the department in town. When the report from the Out District comes in, it might be eight or so per day. There are times when you will not get that much. But there are times when you will get a lot, like leading up to a Friday where the activity is heightened … or on a weekend where persons have a little free time to go and recreate."
The traffic top cop said there is a clear link between increased weekend accidents and alcohol use by motorists, however, the department has a serious limitation as breathalyser testing has not yet been introduced to SVG.
"It is very hard sometimes when you go to an accident scene and while speaking to the drivers you can smell the odour of alcohol coming from their breath."
But in the absence of legislation to govern the implementation of breathalyser testing, ASP Browne said the department's hands are tied when it comes to prosecuting persons who are suspected of driving under the influence. He added that while there are interventions in place to temporarily seize the vehicle of an intoxicated driver, officers cannot force a motorist to submit to testing.
"You can bring them to the station and along with the motor vehicle. If you can record their speeches you can record the way how they walk, if they are not stable on your feet. But if you have to take action according to law, the person will have to volunteer to go to the doctor and give some blood samples or, you have to have a court order. In the absence of that, you cannot just go and test somebody to say you want to know the level of alcohol they have in their system except if they volunteer."
ASP Browne said the department is fighting for the legislative changes for the implementation of breathalyser testing.
" I've written to the Commissioner of Police because he is in charge of the Licensing Authority and he is the chairman of the Transport Board. We want to write to Cabinet asking for amendments to any law that is not effective enough," the officer said.
ASP Browne explained that with only 21 police officers to deal with over 30,000 vehicles and thousands of motorists, there is tremendous pressure to road users safety.
"When you look at the workload of a staff of 21 persons to manage over 100 and something thousand people you can see the staff is heavily overworked. We have to cover pedestrian crossings, we have to cover checks, there's a wide range of things we have to cover. So sometimes- while I am not saying that the motorists have a leeway to do things we need the cooperation of the general public. We cannot do it alone."
The week of activities concludes today with a march and rally beginning at the Peace Memorial Hall, heading onto Bay Street, down Higgins Street, onto Grenville Street and ending at Heritage Square. The week is being celebrated under the theme: Road Safety is Everyone's Responsibility.