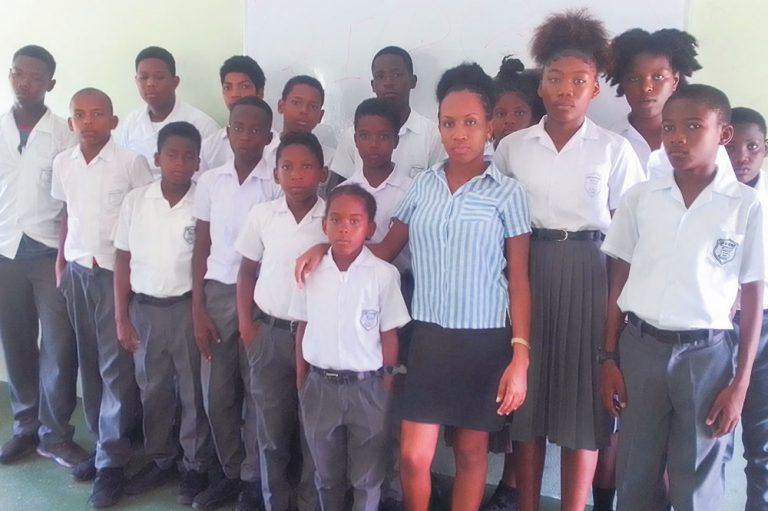 Student's death leaves gloom at Sandy Bay Secondary School
An air of sadness permeated the Sandy Bay Secondary School this week as the principal, students and staff tried to come to terms with the tragic death of a member of the student body.
Thirteen year old Dezy Lavia, a form one student, died at the Milton Cato Memorial Hospital on Sunday, May 14 after he was reportedly struck by a minibus in Orange Hill that afternoon.
When SEARCHLIGHT visited the School on Wednesday, May 17, there was a deafening silence; it had been three days since the tragic loss of the student.
The mood in the Form One classroom where Dezy once sat, was also very sombre.
Pericia Ballantyne, one of Dezy's form teachers expressed to SEARCHLIGHT how heartbroken she is by the sudden loss of her student.
"The night that I got the news, I just broke down. I was asleep and I woke up and broke down."
Dezy lived at Sandy Bay and attended the Sandy Bay Secondary School which was relocated to Mt Young in Georgetown, in the aftermath of the eruption of La Soufriere volcano which substantially damaged the school building in Sandy Bay.
Ballantyne described Dezy as "quiet, humble, liked by everybody."
Additionally the teacher said Dezy "always did his work, and he was the one that kept the class in check."
SEARCHLIGHT also learnt that Dezy was also an athlete of the school's Red House.
"He was good at running and he also liked cricket," the teacher reflected.
Ballantyne said when students turned up for school on Monday, their mood was quite solemn as they were still trying to come to grips with the sudden loss of their classmate.
"The students were all heartbroken," the teacher sadly recalled.
Asked if Dezy was in school on Friday May 12, the teacher replied in the affirmative.
No one at his school thought that on that Friday, they were seeing Dezy alive for the very last time.
Relating some of the activities in class last Friday, the teacher said "we were making some Mother's Day cards and he was very excited. He was one that was looking forward to Mother's Day."
She added that Dezy had a unique way of putting his mouth, which would bring smiles and laughter in the classroom.
Although he was not a prefect, the teacher said he often kept the class in check by reminding his classmates that "Miss is in class."
The students in his form were too moved with emotions to speak to SEARHLIGHT about their colleague. Some simply bowed their heads on their desks and cried at the very mention of Dezy's name.
Just hours before he died on Mother's Day, Dezy presented his mother with the card he had made for her in school last Friday. The police said in a release that investigations were taking place into an incident that left a pedal cyclist of Sandy Bay dead. "Motor vehicle HV 112, a Toyota Hiace owned by Larnet Ballantyne of Sandy Bay and driven by Kashaka Holder, a 38 year old Byera resident, struck the deceased as it headed towards Sandy Bay…". Holder has been assisting the police with the investigations.