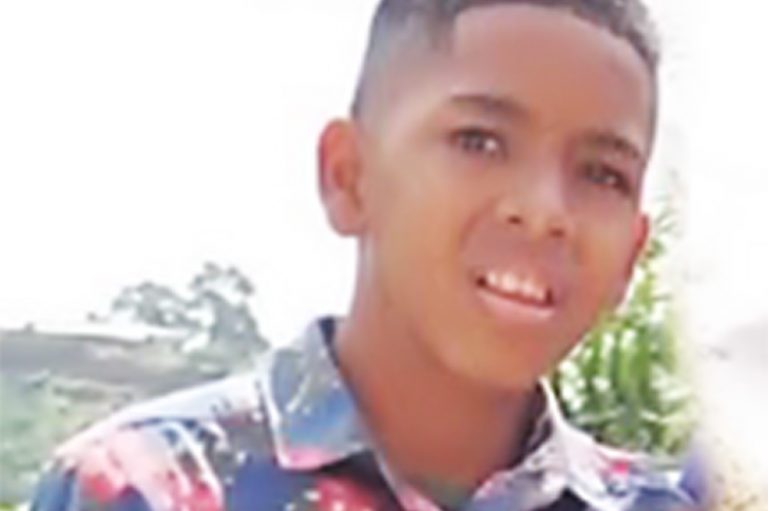 Sandy Bay teen dies in road accident after preparing Mother's Day lunch
A teenager who died tragically in a vehicle incident on Sunday, May 14, had helped prepare Mother's Day lunch for some of his relatives, just hours before he met his demise.
The victim, Dezy Lavia had even taken a Mother's Day card to his mother Shauniel Lavia, before leaving Sandy Bay on Sunday evening.
The 13 year old student of the Sandy Bay Secondary School died on Sunday night at the Milton Cato Memorial Hospital.
His aunt, Jonicia Lavia told SEARCHLIGHT that Dezy was struck by a passenger van on Sunday evening.
The aunt disputed reports that Dezy was struck while riding his bicycle in Orange Hill.
Lavia said she learnt that at the time of the accident, Dezy and some of his friends were sitting at the side of the road at Orange Hill.
"They were just there with the bikes relaxing," she said.
The deceased teenager and about seven of his friends were allegedly relaxing in front of someone's yard when tragedy struck.
Dezy was taken to the Georgetown Smart Hospital and was then transferred to the Milton Cato Memorial Hospital.
Lavia said that Dezy was at her home on Sunday and helped to prepare lunch for the family.
"He did a potato salad and helped with the baked pie as well," his aunt said.
"He made a post card and took it to his mom and then he went riding with his friends."
Lavia recalled that her nephew left her home around 5:00 p.m on Sunday to take the card to his mom who also lives in Sandy Bay.
Lavia's brother, Desron Lavia is Dezy's father.
In tears, the aunt described her nephew as an "up spirit child" who loved to help out in the kitchen and would then ask everyone's opinion about his dishes.
She said on Sunday, Dezy was as good as ever, and news of his death came as a shock.
The deceased, who turned 13 in February, was also described as friendly, loving, and kind.
"He was always handy. His father is a farmer and he was always willing to go to the mountain and help do whatever."
Lavia said Dezy often stated his desire to be a policeman when he finished school.
He also wanted to own a vehicle.
"He was into vehicles and bikes.
"Usually if something was wrong with his bike, he would put up money to buy whatever for the bike," the aunt said.
In a release, the police said they are investigating a motor vehicle incident which left a pedal cyclist of Sandy Bay dead.
"Motor Vehicle HV112, a Toyota Hiace owned by Larnet Ballantyne of Sandy Bay and driven by Kashaka Holder, a 38-year-old Byrea resident, struck the deceased as it headed toward Sandy Bay.
He suffered multiple injuries about his body and was taken to Georgetown Medical Center before being transferred to Milton Cato Memorial Hospital, where he was pronounced dead," the police release states.
"A postmortem examination is expected to be carried out on the body of the deceased to ascertain the exact cause of death.
Holder is assisting the police with the investigation."
The police are asking persons with information that can help with the investigation to contact the Georgetown Police Station at 1-784-458-6229.
A few weeks ago a 55-year-old Georgetown resident was struck by a vehicle and subsequently died.
Marva Rhonda Williams was struck while walking along Commercial Road in Georgetown on April 21.
She died at the Georgetown Smart Hospital on Saturday April 22.