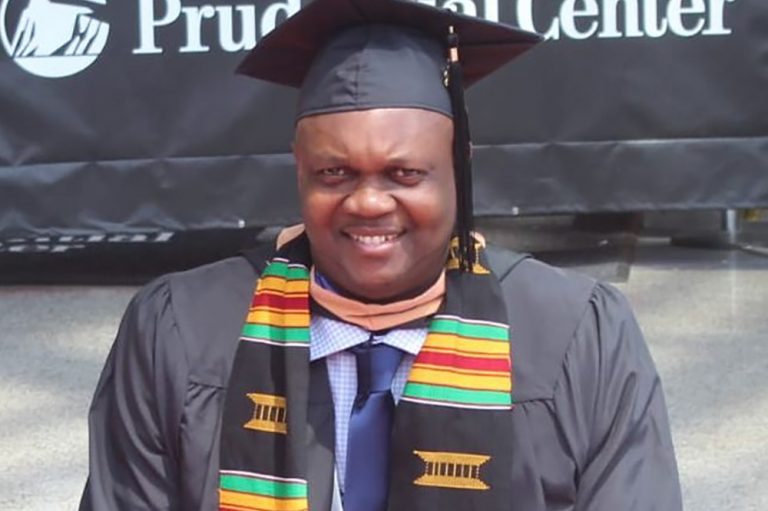 Man from humble beginnings thanks God for bringing him thus far
A young man who once raided mango trees to satisfy his need for food, is now looking back and thanking God for bringing him thus far.
Originally from Langley Park (Bay Road) in Georgetown, Dyke Troy Campbell is now in the USA and has recently graduated with a Bachelor's Degree in Business Administration/Health Service Management. And, he has no plans to rest on his laurels.
Campbell, also known as Dyke Fergus is now 44 years old, and is still climbing the ladder of success.
In an interview with SEARCHLIGHT on Friday, Campbell acknowledged having had a challenging past.
However, having migrated to the USA 10 years ago, the young man is on a path to turn his fortunes around and make the best of the available opportunities he now has.
While growing up in St Vincent and the Grenadines (SVG) Campbell had his early education at the Langley Park Government School.
He later attended the North Union Secondary School and the SVG Community College, Technical Division.
Before migrating to the US, Campbell also served for two years as a member of the Royal St Vincent and the Grenadines Police Force.
The Vincentian graduated from Berkeley College on Thursday, May 11.
Recalling some of the difficulties in his earlier life, Campbell said "It was challenging. It was six of us and life was not easy … It was my mother and my uncles who raised me."
He remembers his uncle Clement Fergus, pushing him to always strive for excellence.
"I came up without my father. My father was living in America," Campbell recalled.
"My uncle Clement, he always pushed me as a young boy, he always instilled in me discipline. He always pushed education and how important it is to educate yourself," Campbell recounted.
"While going to North Union [Secondary School] I was not one of the privileged kids … I remember a lot of times, I'm at school and I'm hungry."
Campbell related that there were a few mango trees near the school and on many days, mangoes from those trees "saved my life."
"I would go and pick mangoes and I would eat them for my lunch. I would hide from the other kids because I didn't want them to see me eating mangoes for lunch," he added.
"But a lot of the time, those mango trees saved my life."
Campbell said while eating mangos he would see other children going to the tuck shop to buy their lunches and 'box' juice.
"That's how difficult life was. My mom did not have a job that paid a lot of money so she just gave us whatever she could have afforded."
Campbell remembered doing well in the then Common Entrance exams and said based on the results he should have attended a secondary school in Kingstown. However, finances were scarce and he was sent to the North Union Secondary School.
The US-based Vincentian said he had lots of potential, but constant hunger in his youthful days prevented him from fully maximizing his potential.
Even while at college, Campbell said he had challenges and almost gave up but persevered and can today attest to the power of prayer.
"Someone once said to me, education is the way out of poverty. I didn't understand what it meant until I started seeing results."
Campbell who now works as a forklift driver/operator in the US has his eyes set on becoming the president of a hospital.
Later this year he will begin a Master's degree programme in Public Health.
The former Langley Park resident is holding on to the mantra to "never let your past determine your future."