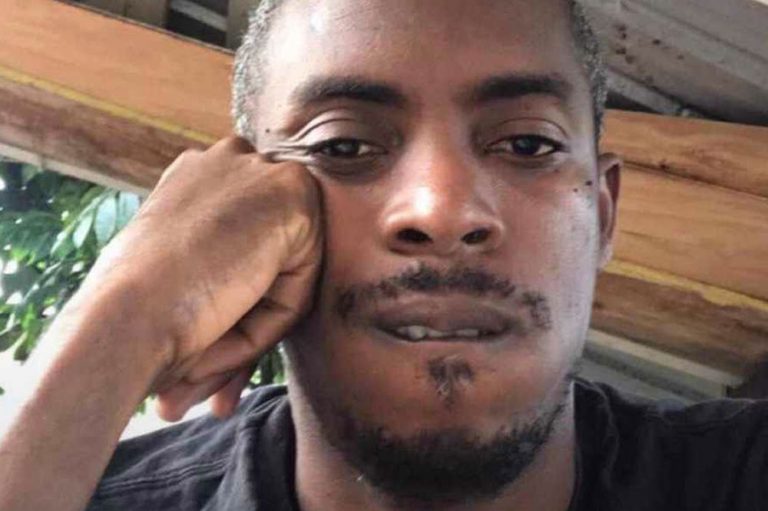 Victim killed while visiting female friend
Death seems to have come in twos for the Thomas Family of Bonhomme. Well at least, that's what they think, a feeling spurred with the death of family member Nigel Thomas.
Thomas, 43, who resided in Brighton, is this country's 17th homicide for 2023. He was shot and killed on Monday night at a home located not far from the sign that welcomes persons to Diamond.
According to a resident of the area where Thomas lost his life, gunshots were heard sometime after 9:00 p.m on May 8, and when the noise waned Thomas was discovered dead on the porch of a home where he went to visit a female.
The same resident said a youngster from the area went to where Thomas was shot and took photos on his mobile device and as a result was detained by police and his phone confiscated.
SEARCHLIGHT visited the Bonhomme home of the Thomas family on Tuesday where a female cousin of Nigel's said family members were livid, sad, and experiencing a range of emotions.
She said the family was close knit and none of the members have any idea why someone would want to murder Nigel.
"Right now I can't talk," she first commented while noting that she would rather not give her name to the press because of the violent way in which Nigel left the world.
She said four years ago, Nigel's grandmother died after she heard that one of her grandchildren had succumbed to a medical condition, and this month another family member died from natural causes a few days before Nigel was shot dead.
"This is a very sad time for us," she said.
Nigel's cousin said when she heard that he had been shot, she went to the scene and was devastated by what she saw.
"This year is very hard for us," the cousin said, while adding that Nigel was a kind hearted, loving person who loved his family and looked out for them.
Curtis Thomas, one of Nigel's male cousins said the deceased man was very quiet and would give money to relatives when he met them.
Curtis said both he and Nigel were born in Trinidad and Tobago (T&T) and came to Saint Vincent and the Grenadines (SVG) at after the other. Curtis said he lived in Diego Martin while Nigel had residence in Laventille but came to SVG as both his parents are Vincentians.
"I feel it. I know he was a guy wasn't humbugging nobody. If the man did get beef with anybody, I would feel better. They shoot down the man but is a man always peacefully, no violence…", Curtis said adding that he thinks that innocent people are getting killed for persons that may be guilty of making trouble.
Nigel's death came two days after the shooting death of Rillan Hill resident Jamarlo "Ice" Dunbar who was shot and killed in Arnos Vale on Saturday, May 6, and three days after the death of a six month old baby boy who was allegedly thrown from a balcony on Friday, May 5, in Belair.