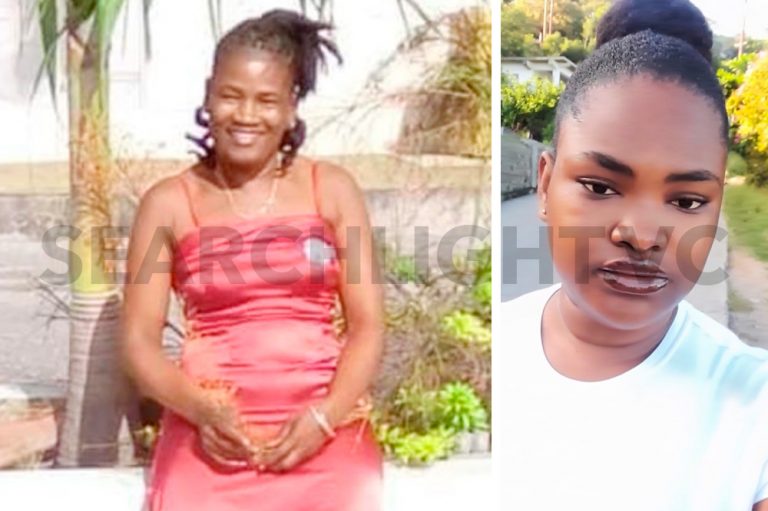 Front Page
April 25, 2023
I was not ready to lose my mom – Accident victim's daughter
While members of the Georgetown community are still mourning the tragic loss of former Spring Village resident, Rhonda Marla Browne, members of her family are struggling to come to terms with the manner in which her life was snatched from her so abruptly.
"I was not ready to lose my mom," the eldest daughter of the deceased told SEARCHLIGHT on Monday morning.
Wallicia Browne, who learnt of the death of her mother while on the job on the Grenadine island of Canouan could not stem the flood of tears and cried uncontrollably as she broke off speaking to SEARCHLIGHT.
Rhonda Browne, 55 years old, died at the Georgetown Hospital at about 2:30 a.m on Saturday, April 22, mere hours after she was struck by a vehicle on Friday night.
The accident took place sometime after 11:00 p.m, along Commercial Road in Georgetown, a short distance away from the Georgetown Police Station.
The family was in too much shock to speak to SEARCHLIGHT on Saturday.
However, Wallicia consented to a brief interview on Monday.
She said when she learnt of the incident she immediately began making plans to travel to the mainland and to get to her home in Spring Village, Georgetown.
"I am both angry and hurt about the way my mother died," the young woman related.
Wallicia said she never expected to hear such news about her mother.
"I spoke to her in the week, we were on video call because I was in Canouan.
"She was healthy and happy," Wallicia said.
Rhonda Browne died about one month shy of celebrating her 56th birthday on May 23.
The body was taken to the mortuary at the Milton Cato Memorial Hospital pending a post mortem examination this week.
Wallicia, 23, is the second of her mother's five children.
The other siblings are: Mozart, 26, Carson 20, Britney 17 and 13-year-old Mallicia.
Apart from caring for her elderly father and step mother, Rhonda also worked as a cleaner at the Georgetown Post Office.
Residents describe her as a very dedicated and hard working woman.
Concerned residents are also calling on the authorities to place speed bumps at certain locations along Commercial Road in Georgetown.
A release from the police said Browne was struck by Motor Vehicle PW510, a blue Lexus owned by Arlington Jackson of New Prospect/United Kingdom and driven by Luther Jackson, a 41-year-old Contractor of New Prospect as it traveled from Mt. Young to Rabacca.
"Browne sustained multiple injuries to her body and was transported to the Georgetown Medical Centre, where she was subsequently pronounced dead.   A postmortem examination is expected to be carried out on the body of the deceased to ascertain the exact cause of death. Luther Jackson is assisting the Police with the investigation," a release from the police said.
Persons with information that can help with this investigation are encouraged to contact the Officer in charge of the Eastern Division at 1784-458-6229; or any police station or officer you are comfortable speaking with.
All information received will be strictly confidential. Investigations into the matter are ongoing.
[[UPDATED ON Tuesday, April 25, 2023 at 6:06 pm AST with information from the police.]]