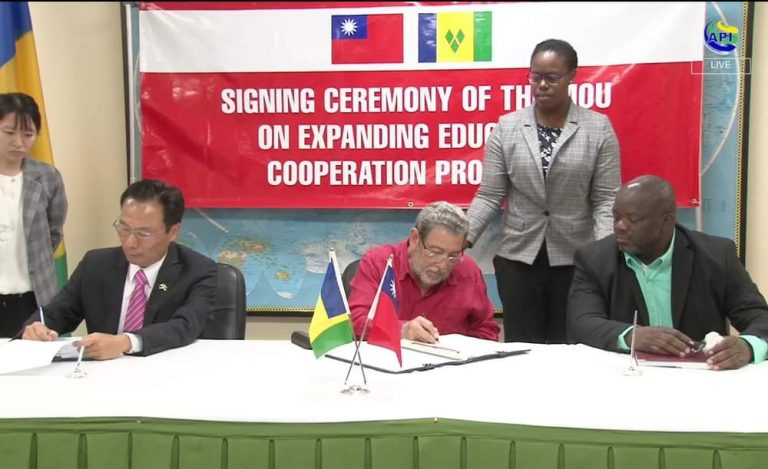 Front Page
April 14, 2023
SVG 'hooked in the gill' by Taiwan – PM Gonsalves
Any Vincentian government that wishes to switch diplomatic relations from Taipei to Beijing will have to repay immediately, hundreds of millions of dollars in loans.
"Go ahead if you think you're a big fish, leh we see how you can deal with this," Prime Minister Dr Ralph Gonsalves said on April 5 during the signing of a loan agreement with Taiwan to fund the national secondary roads improvement programme.
Describing the level of indebtedness of St Vincent and the Grenadines (SVG) to Taiwan as a "hook in the gill", he disclosed that between September 2022 and today, the outstanding amount has grown from EC$100 million to EC$477.9 million.
"It is not a little drop of money we owe Taiwan, you know."
Gonsalves's comments were a dig at the Opposition New Democratic Party (NDP), which in 2016, while under the leadership of Arnhim Eustace declared that if elected to government, they would adopt the "One China Policy" and cut ties with Taiwan.
This position has been endorsed by Dr Godwin Friday, current president of the NDP, who, despite having a more friendly posture to Taiwan than Eustace, said as recently as last week that there has been no change in the position of the NDP regarding its relationship with the Republic of China on Taiwan.
"We have diplomatic relations with Taiwan, we have maintained good relations with them in terms of our relationship in the country; the way in which we conduct business, and we attend functions, we get along. We are very thankful for the support that they have provided and I think that is what he was reflecting, and that is not different from what we have said in the past," the Opposition Leader told SEARCHLIGHT on April 6.
At the loan signing ceremony one day earlier, Prime Minister Gonsalves said agreements held between SVG and Taiwan put a "hook in the gill" of anyone who wants to change the relationship and that party will have to come up with at least EC$600 million to repay Taiwan.
He said he has in the past drawn this to the attention of the public as it seems to him that some are not cognizant of the issues that a shift to China can cause for St Vincent and the Grenadines.
"So, you say you're taking up your marbles and you're going to … play the game in Beijing. The agreement says that you have to pay back the money right away. You hear me? And the law of the state of New York applies," Gonsalves stressed.
The Prime Minister explained that since September 2022, SVG has borrowed, from Taiwan, US$20 million to construct the modern Parliament building and the high court complex; US$50 million for the Marriot Hotel at Mt Wynne; US$62 million for the new Kingstown port project; and US$45 for the national secondary roads improvement programme; a total of US$177 million (EC$477.9 million).
Gonsalves says when other sums that are owed to Taiwan are considered, the number goes up to around EC$600 million.
Taiwan's contribution to education, including to students studying in Taiwan, is around $20 million.
He said that if ties with Taipei are severed, these students will have to come home or the government or some other entity will have to pay for their studies.
"I'm giving you what are the facts of life and I'm a sober, balanced, clear-thinking individual in relation to these matters. As I said, I don't have a 'for sale' sign in the metaphoric shop window of the Ministry of Foreign Affairs.
"This country is not for sale," Gonsalves reiterated while adding that the figures stated do not include several other forms of assistance Taiwan gives to the country.
He said his government has, constitutionally, three more years in power, and during that time, more money can be borrowed from Taiwan.