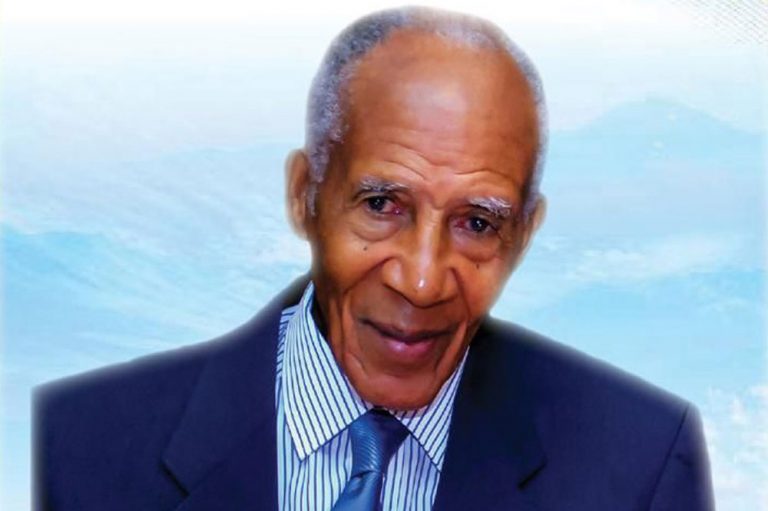 Front Page
March 31, 2023
Tributes pour in for Sir Cecil Cyrus
A wide cross section of persons have taken to the media to pay tribute to Sir Cecil Cyrus, a pioneering Vincentian surgeon and physician who died on March 24.
Among these are medical doctors whom he mentored when he learned they were considering going into the field of medicine, and even later in their careers.
Dr Margaret Ann Eustace, in a tribute sent to SEARCHLIGHT said she was privileged "to have been taken under his wing … and introduced to the art of surgery and the guiding principles of medical practice in the weeks before I began my own medical training. This tutelage continued during my vacations when at home from university."
Dr Anson Alvis, who graduated decades later than Eustace said in a post on Facebook: "I remember when we last spoke over tea before I went off to specialize you told me a quote by Voltaire: 'Men are equal; it is not birth but virtue that makes the difference.' You were my doctor as a kid in short pants and eventually a mentor to me as a young physician. I hope I can have a life and career as rich as yours and to inspire who I can along the way."
In her tribute, on Facebook Dr Reisha Twanna Caesar said "The medical fraternity and St Vincent and the Grenadines lost a brilliant son of the soil last week. I am grateful for opportunities I had to interact with him and to learn from him and his work. "
During yesterday's edition of 'Physician On Call' on NBC Radio, Dr C Malcolm Grant said Sir Cecil's knowledge with regard to the practice of medicine was second to none. "He was one of the first doctors in the Caribbean to actively promote continuing medical education. He did so as a host, and as the presenter of some landmark papers. I had the fortune of attending a few of his excellent and enthralling presentations," Grant said.
He also called for the specialist hospital which is to be built at Arnos Vale to be named in honour of Sir Cecil.
"I do think that there could be no more fitting tribute to this great Vincentian, than to name the soon to be constructed Arnos Vale Specialist Hospital: 'The Sir Arthur Cecil Cyrus Hospital', Grant stated.
But moving tributes have also come in from persons and organizations outside the medical field.
Popular radio personality Christopher "Too Cool Kris" Jones, in a touching post made on Facebook said Sir Cecil saved his life. "You literally brought me back from death's door with a surgical procedure that lasted for hours."
Jones said Dr Cyrus opened his hospital at 6:30 am just to accommodate him. "I, and by extension my entire family remain ever so grateful to you sir for your kindness, dedication and commitment to your practice / patients. You were, in my humble opinion… a medical practitioner of unmatched qualities."
Sir Cecil Cyrus will be laid to rest on Thursday, April 13, following a funeral service at the Kingstown Methodist Church. Tributes will begin at 9:00 am and the service at 10:00 am. Interment will be at the Kingstown Cemetery.
In lieu of flowers and in keeping with Sir Cecil's wishes, a donation may be made towards the Helping Hands Centre at New Montrose or the Kingstown Day Nursery.
SEARCHLIGHT will, on Friday, April 14, publish a special feature in honour of the life and work of Sir Cecil. The supplement will include photographs, written tributes, biographical information and messages of condolence / thanksgiving from those whose lives he touched. Persons wishing to contribute short written tributes, photographs and / or messages of condolence / thanksgiving for inclusion in the supplement should email them to [email protected] no later than Wednesday, April 5, 2023.