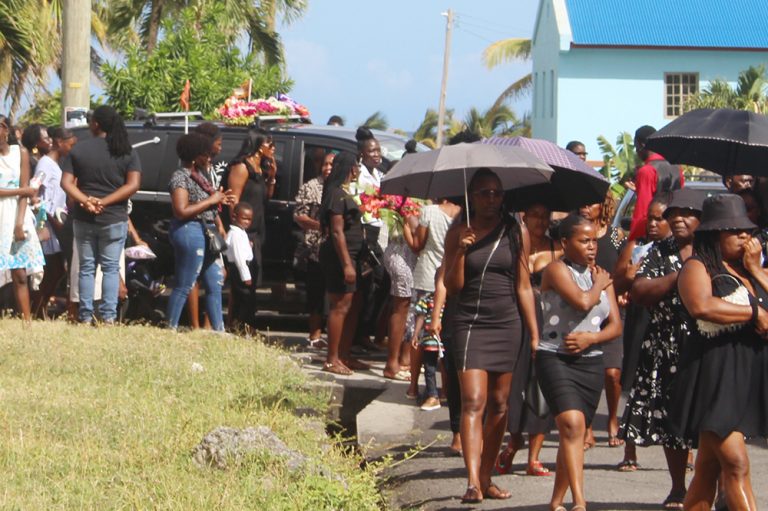 Front Page
March 28, 2023
Mourners pay last respects to murdered Georgetown man
Mourners turned out in large numbers last Saturday, March 25 to pay their final respects to murder victim Sheldon 'Butterz' Welch, formerly of Georgetown.
Welch's dismembered body was found in the Morne Garu Mountain on Thursday, March 2, hours after the discovery of a bloody scene at his home in Caratal, a Village in Georgetown.
The 27 year old man was reportedly hacked to death and his body chopped into several parts and taken to the mountain.
Relatives and friends paid tribute to Welch during his funeral service last Saturday which was held at the Berean Baptist Church at Mt Bentick in Georgetown.
Mourners were unable to get a final glimpse of the murder victim, as his body was in a sealed casket, beautifully decorated with flowers.
When the casket arrived in the church on Saturday, Welch's mother, Michelle Spring, left her seat and went to the back of the church where the casket lay.
She bent over the casket, kissed her fingers, then placed the fingers lovingly on the casket.
This was done in one brief moment of pain and passion, at the tragic loss of her son Sheldon.
Paying tribute at his funeral a female relative said Sheldon was the second child for his mother.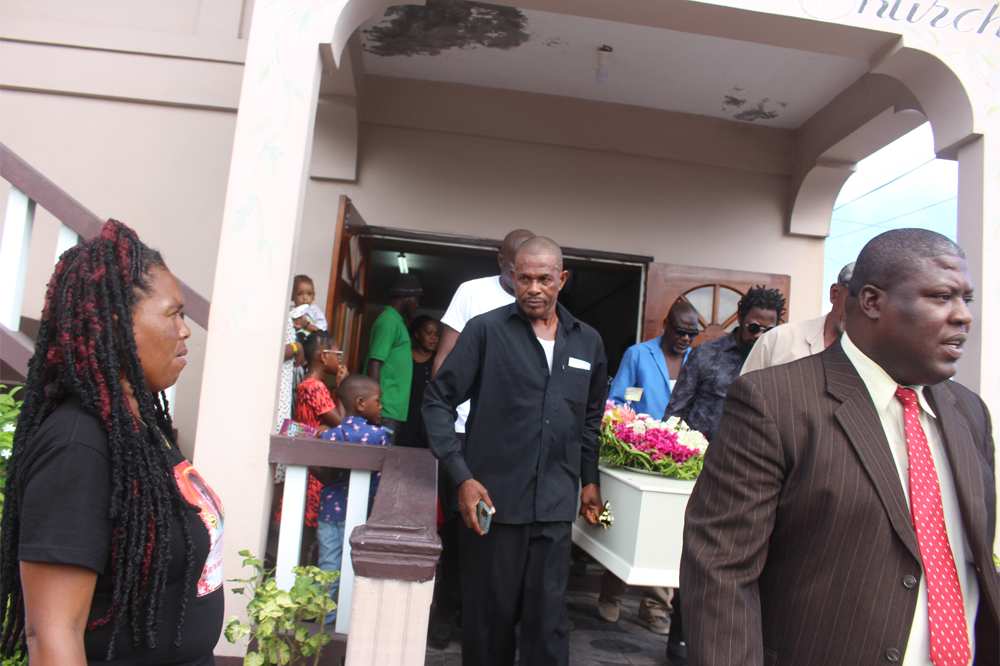 She said he grew up in Langley Park, and later moved to Caratal Village.
Welch had his primary education at the Georgetown Government School and began his secondary education at the St Vincent Grammar School.
He was later transferred to the Georgetown Secondary School.
He did not complete his secondary education, and opted go work.
Apart from doing small jobs here and there, Welch also had a short stint working at St Vincent Distillers Ltd.
The cousin said he was very interested in construction work and was trying to improve the living conditions for himself and his mother.
"In his mother's view, he was a Jack of all trades."
Welch's cousin described him as a kind, calm and cheerful person.
"Sheldon, your life was tragically and brutally snatched away from us."
'Butterz' as he was affectionately known, was the Welch's maternal brother, 22 year old Javid Da Silva and a 15 year old student are charged with his murder.
A third person, Lisroy Bacchus, a relative of Dasilva was charged with assisting to transport the body to the Morne Garu Mountain.
On the eve of Welch's burial residents of Georgetown and surrounding areas also took part in a candlelight vigil against crime and violence in the community.