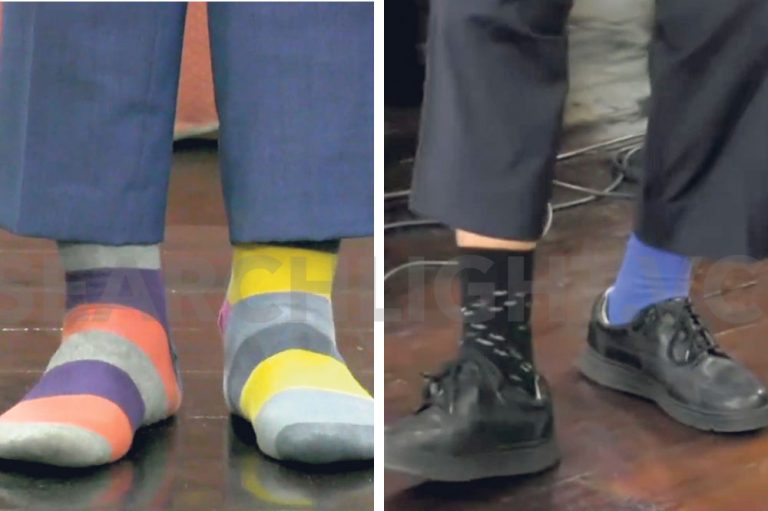 Front Page
March 24, 2023
Parliamentarians rock their socks in support of World Down Syndrome Day
Both Prime Minister, Dr Ralph Gonsalves and Opposition Leader, Dr Godwin Friday, joined with the rest of the world in rocking their socks in observation of World Down Syndrome Day on Tuesday, March 21.
Notably, the day coincided with a meeting of the House of Assembly, and both leaders showed off their socks in Parliament.
They both used the congratulatory segment in Parliament to show solidarity with persons living with Down Syndrome and with organizations and groups that support these persons.
In observation of World Down Syndrome Day, people showed support by wearing odd socks, in keeping with the slogan 'rock your socks.'
Speaking in Parliament on Tuesday, Dr Gonsalves admitted "I have very boring socks, blue, black and some brown."
"So I had to borrow Eloise's this morning… these are her socks actually," Dr Gonsalves said as he showed off his mismatched socks in Parliament.
The Prime Minister expressed congratulations and best wishes to the various "organizations and persons associated with this worthy venture, and to all the persons who have down syndrome".
"We love them and particularly the children; and we will continue to look out for them," Dr Gonsalves promised.
The Prime Minister also had on display a t-shirt in support of World Down Syndrome Day.
Leader of the Opposition, Dr Godwin Friday also rocked his socks last Tuesday and boldly showed them off to his fellow parliamentarians.
"I congratulate all those organizations and individuals who provide service, support and encouragement to the beautiful people whom they represent."
Seeking the Speaker's permission, Dr Friday said he just wanted to show off his socks.
World Down Syndrome Day is observed to acknowledge and celebrate the lives and achievements of people with Down Syndrome.
It is hoped that the day will help combat stereotypes and misconceptions about the condition.
Down Syndrome has been described as a genetic condition where a person is born with an extra chromosome.
This extra chromosome can cause a wide range of different physical and mental challenges for persons living with the condition.
On Tuesday, schools and many other individuals and organizations also rocked their socks to show support for persons living with Down Syndrome.