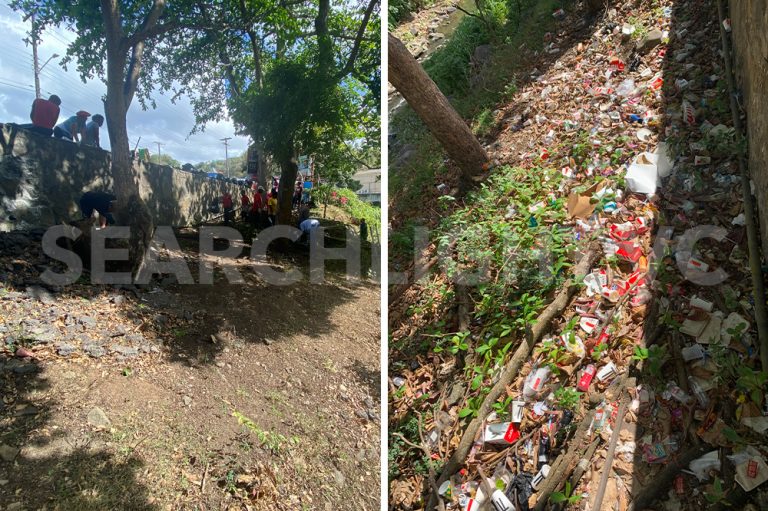 Front Page
March 21, 2023
75 bags of garbage removed from Arnos Vale bus stop (+VIDEO)
Take pride in yourselves and in the environment is the appeal to culprits who litter a popular bus stop in Arnos Vale where a group of Seventh Day Adventists (SDA) embarked on a massive clean up on Sunday, March 19.
As part of their activities to celebrate Global Youth Day, around 45 people from the Youth Ministries of SDA churches in the Southern District undertook a clean up campaign as a way of showing care and love for the environment. The volunteers, drawn from the three SDA churches of the district- Glen, Fountain and Arnos Vale took three hours to clean up the much used bus terminal in Arnos Vale obliquely opposite Massy Stores.
They collected a total of 75 large bags of garbage which had accumulated in the area.
The clean up came one month after SEARCHLIGHT turned the spotlight on the heap of garbage behind the bus stop.
President of the Southern District, Gail-Ann Williams told SEARCHLIGHT on Sunday that the district celebrated Global Youth Day under the theme "Love is a verb." Williams said she was happy to see everyone working together by showing love and taking care of the environment.
While she noted that the experience was a "wonderful one'' she expressed her displeasure at how the environment is being kept.
"People are not taking care of the environment but at least we are here to show the love and, hopefully, others will take note and show the love also," she said.
Many youngsters were among those involved in the clean up.
Williams said "It is important to have young people involved because we see youths as our future generation and we have to teach them how to take care of the environment because they are the ones who are going to use it long after we would have passed on".
She added, "We have to teach them how to keep it clean and how to take care of it so that it can serve them".
Williams pointed out as well that everyone has a responsibility to keep the environment clean and she has urged that people should use the bins that are available to dispose of their waste.
A volunteer from the Fountain SDA church, Amunique Cordice, told SEARCHLIGHT that while the outreach was positive, some negative comments were heard such as, "we are wasting our time because by tomorrow [Monday] it is going back to normal [untidy]'".
Cordice stressed that in order for the environment to be sustained it must be well kept. She said they encountered a large amount KFC cups and containers as well as many Hairoun pints and Sunset Strong rum bottles. The cleaners also encountered quantities of plastic bags which pose a special risk as a river is located nearby.
Sherma Selby Adams, another of the volunteers, has called for a holistic approach in keeping the area clean.
She feels some responsibility rests with manufacturers of the products that end up as litter as this is not a good representation of their products.
"Stakeholders need to play their part in order for us to enhance this island," Adams said while adding, "they need to come on board whether by putting down more receptacles, putting down signs, helping to beautify and maintain the environment…".
Shirla John described the task as "hard" and "back breaking" having to bend for such a long period.
Nevertheless, she found it fulfilling and rewarding knowing that she was contributing to keeping the environment clean.
She added that, "As much as we saw clips of the place being littered, we did not realize the extent of the damage- the amount of garbage that you would find here and also the types- there is even white goods."
John is advising those who litter the area to take some pride in themselves and in the environment because when they litter it doesn't just affect them, it affects everyone, as well as the river and the sea.
She said it is unfair to people who live in the area because the persons who litter would go home to a clean environment while those who reside in the area might be plagued by pests and rodents.
"It is unsightly, unhealthy and goes against God. He created a clean and healthy environment for us…".
Large numbers of students are among those who are often seen congregating at the bus stop and an appeal has been made for them to take home their garbage even if the bins may appear to be filled, especially as the Inter-Schools Athletics Championship is approaching.