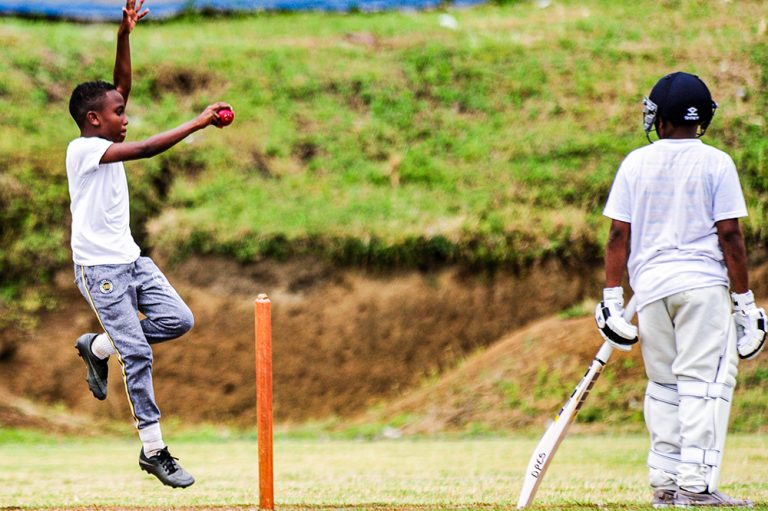 Front Page
February 28, 2023
Primary Schools Cricket returns after two decades
Last Friday, February 24, at the London Playing Field Terique Edwards of the Owia Government School bowled the first ball as primary schools cricket returned after a 20 year absence. It was one of three games scheduled to be played on that day in the 2023 St. Vincent and the Grenadines Primary Schools Cricket Competition.
Playing in Zone B of the competition at the London Playing Field in a match reduced to 20 overs per side, the Sandy Bay Government School lost to Owia Government School by 41 runs. Batting first, Sandy Bay Government scored 160 for 8, with Mikel Baptiste top scoring with 16, and Kean-J Roberts scoring 9. The top bowler for Owia Government was Terrique Pollard, who took 3 for 12 from 4 overs.
In reply, Owia Government School scored 201. Ahmal Lavia scored 16, and Richard Benjamin 6. Bowling for Sandy Bay, Kean-J Roberts took 3 wickets for 25 from 4 overs; Anjay Gurley took 2 for 22 from 4 overs; and Sarya James took 2 for 2 from 1 over.
At the North Union Playing Field, Georgetown Government School had the better of the Pamelus Burke Primary School by 30 runs. Georgetown scored 180 for 3. In reply, Pamelus Burke Government scored 150 for 5.
The scheduled match between the Belair Government School and the Fair Hall Government School was postponed due to rain.
The 2023 tournament is being played with modified rules with the emphasis on batting, bowling, fielding, and in which the batting side starts off with 100 runs credited to their account, but would have five runs deducted for every wicket which falls.
Additionally wides are counted only as extras, and the leg-before-wicket rule is not part of the tournament regulations.