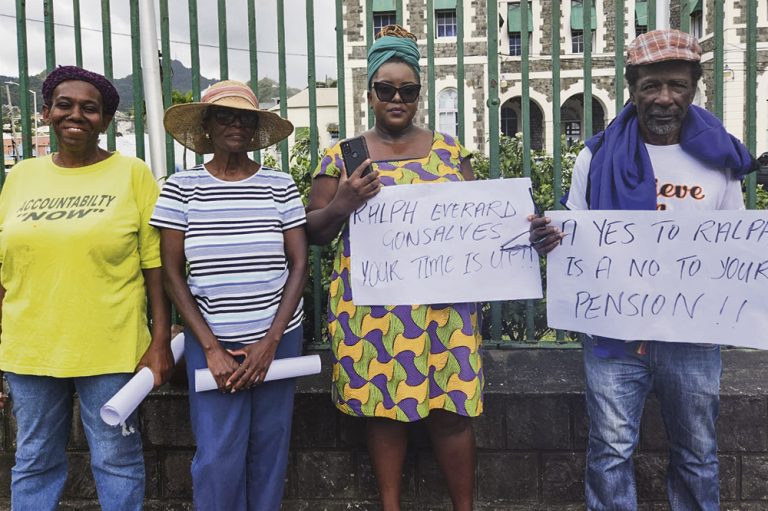 Front Page
February 24, 2023
Picketers voice concerns on NIS pension overhaul
A small group of individuals staged a protest outside the of the House of Assembly building yesterday, February, 23 as Members of Parliament were meeting inside.
The protesters carried placards reading: RALPH EVERARD GONSALVES, YOUR TIME IS UP!!!', and 'A YES TO RALPH IS A NO TO YOUR PENSION' as they expressed their views on such matters as the proposed NIS pension overhaul among others.
Luzette King, who was one of the protestors said she is troubled about the uncertainty of the financial state of the NIS pension.
"I have a pension that I'm getting from there nearly 10 years now, and I thought I should register my concerns and the disgust at the way our money has been used over the years. For example, for the near 10 years, I have not had any raise … yet we're hearing that the Prime Minister borrowed money from NIS to do this, to do that build hotel, that sort of thing".
She said she met with the NIS chief about six weeks ago "to ask him about this; and the agenda that I set was: to give us a list of the investments that we have; secondly, what the returns are; and thirdly, how safe is my pension.
And I've asked that question, not just for me, but for everybody else who might want to… . " King said she also has a concern about the actuarial reports.
"While I was there, I realized that they were behind with their report; but my fear is…some time ago, the chief executive came out saying that if actions were not taken, they will have drastic measures. Now I don't think it's fair on us stakeholders to make a statement like that without telling us what the state of the NIS is…"
John Mofford was another protestor outside the gate of the Parliament building; his position is that it is time for Dr Ralph Gonsalves to leave his position.
Mofford recounted that he had received injury in the August, 2021 protest during which the Prime Minister was struck in his head with an object.
"…them fly he Barbados, and [I] was down here. I get the same three stitches. I'm protesting for let him move. He need to move."
Adriana King said that she as a teacher has been barred from the classroom.
"…I'm here standing up for my rights…overall I want a better SVG, so I want to ensure that I do my part in making a better country for my children," King said.
"…my opinion is that there is no money there and that means that people like you, people like me and those who come will be suffering…".
Another protestor who said she worked as a cleaner at a secondary school said that she lost her job after refusing to take the covid vaccine.
"I lose my job and I'm standing up here for my rights. I'm standing up for my rights because I didn't do nothing wrong…this is my body".
The protestors said they intend to continue protesting in front of the House of Assembly whenever Parliament is sitting.