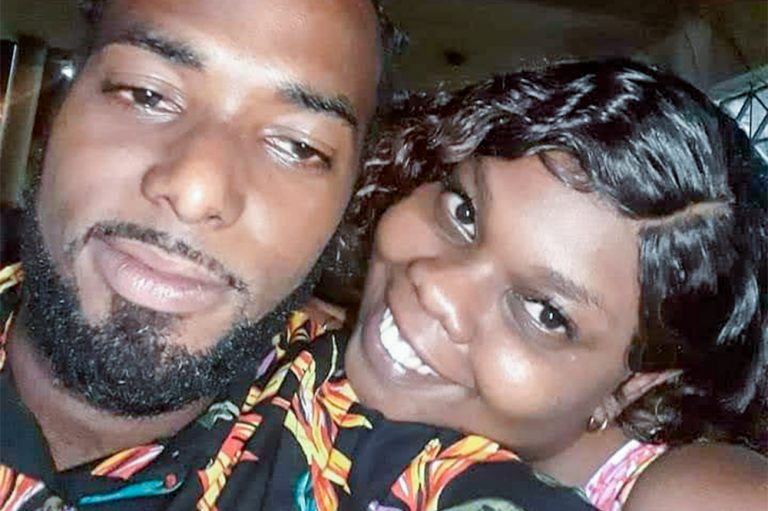 Front Page
February 14, 2023
A love that overcomes – Narei and Kyron going eight years strong
A love story to make your heart swell with joy. This is the best way to describe the strong and enduring love between Kyron King and Nareisha Brereton, the winners of SEARCHLIGHT's Love in Action Valentine's Day competition.
The two starry-eyed lovers submitted a two and a half minute video detailing their love story which also featured their "miracle baby". The video garnered over 900 likes and 18, 000 views to cop the grand prize of a stay at the Hotel Alexandrina.
Narisha told SEARCHLIGHT that the now eight-year relationship began with a simple "Hi" on Facebook Messenger and from there it was late-night telephone conversations and meet-ups to get to know each other.
After six months of courting, the two decided to make it official and on November 1, 2014 they became a couple, even though if you ask Kyron he would be quick to tell you, "We been dey before we even dey."
Almost a decade since they began, Nareisha said, "we don't wish to stop at any time. I must admit it has been a roller-coaster ride, however we always ensure the 'ups' outweigh the 'downs".
And the couple has seen their "downs" with Nareisha revealing that their "mixed and different personalities" is one of the biggest challenges they have faced.
"There are things he likes and I don't – the way we may communicate at times, the way we express ourselves and so on. Talk about stubborn?! That's the both of us," Nareisha said laughing, adding that together, she and Kyron are "double trouble".
"Kyron is more on the simple and reserved side, so some days I literally have to pull him out of his comfort zone."
Another challenge the couple faced was living separately in the early stages of the relationship as Nareisha pointed out, it was a "make or break us" situation.
"Despite all of our challenges we always try to be understanding, forgiving, to always apologize and to spend as much time as possible together."
And that is precisely what the couple has planned for the eighth Valentine's Day together as Nareisha said they always ensure the day is a special one.
"Most valentine's days we have work during the day so we celebrate after work or during the night, whether it's going out for dinner or just a drink to just enjoy each other's company."
Nareisha revealed that Kyron is one who believes in spoiling his partner whenever he can on February, 14 as well as the other 364 days in the year.
"We think that it is also important to try to make each other feel special, not just on February 14th or special occasions because it is those simple things keep the flames of our relationship."