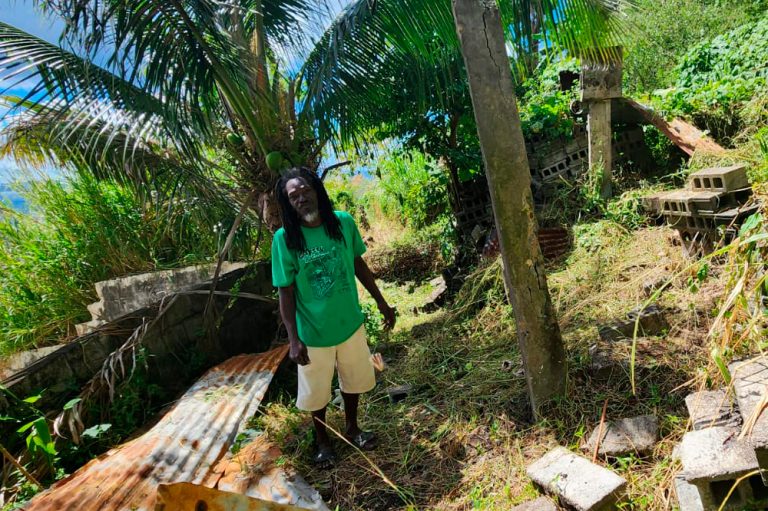 Front Page
February 3, 2023
Fire victim, bereaved father appeals for materials to rebuild home
Childless, almost homeless but not hopeless.
Brian Anthony Cyrus has seen a series of unfortunate events but hopes that assistance can be given in getting him back on his feet.
The 58-year-old New Montrose resident had a rough 2022 when he lost his home in a fire in January, and his only child was killed in a gun-related incident in July.
Cyrus spoke to SEARCHLIGHT on the shell of his former home where he made a public appeal for materials to rebuild his house and return to the place which he called home for over five decades.
The labourer explained that he has been working and trying to accumulate materials, but it has been a slow and painstaking process.
"I have a load of Rabacca [aggregate] behind there and a load of sand. If I can get another load of sand and two sling of cement I could start and do something at least. Just a two bedroom thing I would like to get just to be comfortable."
He recounted the night of January 25,2022 when disaster struck. He said the fire started in the kitchen after he fell asleep watching a documentary. When he awoke the ceiling was already engulfed in flames and he tried, in vain, to get it under control.
"I had to run and try with a little thing to try out the fire and after a time cause when I watch the fire, my mind just close off. When I reach in Bottom Town a man stop me and ask me what I doing down here, that I barefoot and all kinda thing. Cause is like I lose my mind and all thing."
He lost the two-bedroom home he shared with his 28-year-old son, Zimron Richards. He said he and his son had set their minds on plans to expand the home and also establish a shop. After the fire, Zimron had renewed focus to rebuilding the home, and had started selling drinks from an icebox to raise funds. However, the father-son hope of putting a roof back over their heads dissolved when Zimron, believed to be the unintended target, was gunned down on July 14, 2022 while on Block 2000 (Old Montrose).
Cyrus admitted that his zeal for life diminished significantly after his son's killing. To add salt to an open wound, the assistance he had been receiving from the Ministry of National Mobilization to cover rent, expired in August last year as it was only expected to be temporary.
"Right now I have nowhere to go. I still by [landlord] but I don't know when he will throw me out because the seven months done gone. I would like some help to come back home and finish it [house].
Cyrus said living on the edge of homelessness is difficult, adding that he is physically capable of doing the work but needs help securing the building materials.
Persons seeking to help can contact Brian Cyrus at 1-784-530-4878.