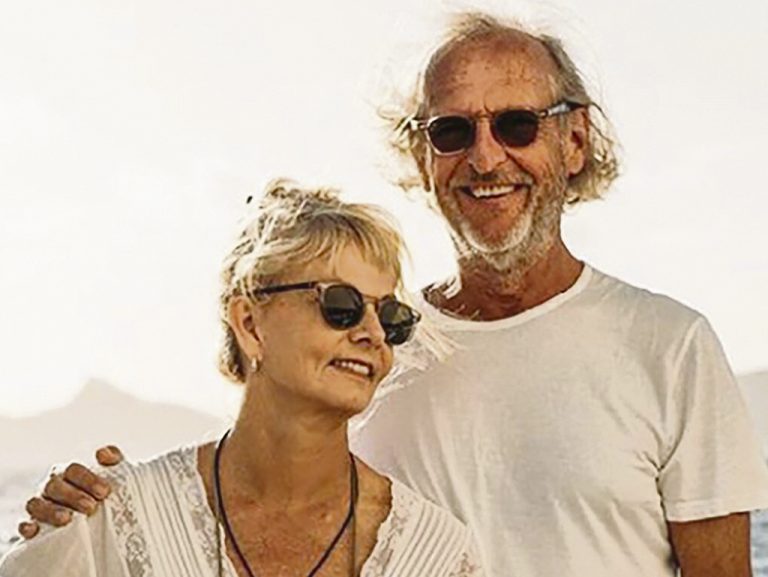 Front Page
February 3, 2023
American woman dies in Bequia crash (+video)
by Christina Smith
Video: Eldonte Samuel
There are more questions than answers surrounding the fatal crash which claimed the life of Elizabeth Watt-Simpson in Bequia earlier this week.
The 63-year-old US citizen who resided in the community of Industry in the Grenadine island, died on Tuesday, January, 31, after the vehicle she was driving ran off a narrow road and plunged over a cliff into the sea. Reports are that Watt-Simpson died instantly.
The deceased was well known on the island for the business Grenadine Sea Salt which she operated, with her husband, Jerry Simpson – The two were married since December 2020 but have been running the business together since 2019.
When SEARCHLIGHT visited Industry, residents said the cause of the accident remains a mystery as there were reportedly no eye-witnesses to the incident.
Employee of Grenadine Sea Salt and friend of Watt-Simpson, Anique Hazell described the accident as "unbelievable" and said since that day, her mind has been fraught with unanswered questions.
"I didn't even sleep too well last night. Like it just kept seeing her, so much questions on your mind. You will ask yourself what really happened. So it's a lot of questions like what really happened in the car, if she got distracted. It's just she and God will know basically what really happened. It's just sad, you know?"
Hazell, still visibly shaken and affected by the incident, explained to the SEARCHLIGHT team that Tuesday started out as a "normal day" where Watt-Simpson went to the office to complete her duties and then left with the intention to return around noon.
"She would come to the office, chat with us and then leave and then come back at a certain time to relieve me whether 12 [pm], 12:30, whatever times we set and I take my hour break. It's a normal routine thing. She normally leaves and come back you know, and have our lunch and everything."
However Watt-Simpson never arrived back to meet Hazel as was the custom. Hazel said that about ten minutes to noon, a man alerted those at the factory of the accident.
"He hail out to me and was like 'your boss, your boss, the lady in the white vehicle, your boss she gone over the brink and like she dead'. I wasn't paying attention much to him and then afterwards like he said it again and then I jump then I say oh my god."
Hazell said from there she, along with the other employees, rushed to the scene of the accident where they met Watt-Simpson still in the vehicle below the cliff.
Kern Garrick, a maintenance employee at a guest house nearby, was the first to respond to the accident. He said he heard a loud crash, initially believing that something had fallen in one of the houses nearby. His wife alerted him that a car "went over the cliff" and he immediately rushed to the site.
"I drop what I was doing and then I ran came out to go help the person," Garrick told SEARCHLIGHT, adding that he initially thought the driver was just injured.
"… when I went down there the vehicle was over there, in front of it dent up, and then I opened the door and the lady was already dead then a kind of bad feeling just struck me."
Shortly after, concerned residents started to come out to the accident scene, which included husband, Jerry Simpson, the founder of Grenadine Sea Salt.
"… a lot of persons came here and the husband came here. He [Jerry] was crying, I could hear him from over there," Garrick said, while pointing to demonstrate the distance between him and scene.
Hazell described the pair as "shirt and button" and expressed sympathy for the tragic way in which the business partners and lovers were separated.
"They were a team, they work together, they run the business together. I think it would be really hard on him to be there because they have all this new renovation and plans and everything … for him to be there alone and she's not there that would be a very difficult task," he surmised.
" We work with them and we see they're loving with each other. It's very hard to run a business that you all had together running together so smoothly and then she's not here any more."
A post mortem examination is expected to be carried out on the body to ascertain the exact cause of death, the police said in a release dated January 31. Watt-Simpson's death marks the first road fatality in St Vincent and the Grenadines for the year 2023.
RELATED ARTICLE: Man dies in sugar truck crash